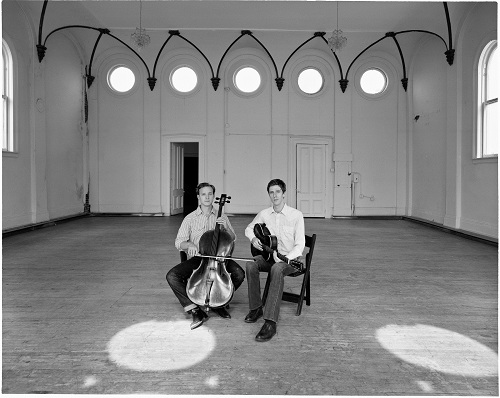 Ben Sollee and Daniel Martin Moore— according to the press-releases– met after Ben Sollee– a classically trained cellist and member of Abigail Washburn's Sparrow Quartet– stumbled upon Moore's MySpace page and listened to the music there. Daniel Martin Moore was signed to SubPop records in 2007 on the power of an unsolicited demo. He released his first album Stray Age on SubPop in 2008.
Both Sollee and Moore as well as producer/collaborator Yim Yames (aka Jim James from My Morning Jacket) are from Kentucky and have a shared concern in the mountain top removal that occurs in coal mining in their state today. Sollee and Moore have chosen to take the proceeds of their first collaboration together– their album titled Dear Companion (on SubPop) and donate them to Appalachian Voices. Appalachian Voices is an organization hoping to bring awareness to and end mountain top removal coal mining. They have a really interesting application on their website that shows you how your local utility company contributes to Mountain Top Removal.
The little bit I've had a chance to listen to Dear Companion leaves me with the opinion that their stripped-down folk and bluegrass melange is reminiscent of Nick Drake and a little like labelmate The Iron and Wine. An impressive collaboration and very worth checking out.
Sollee and Moore will be performing at CSPS in Cedar Rapids on Monday, March 15th at 7PM. Joining Sollee and Moore on stage will be percussionist Dan Dorff and violinist Cheyenne Mize.  Tickets are $11 in advance and $15 at the door.
Click Here for the Legion Arts webpage about the Dear Companion show.
Click Here to listen to their Daytrotter Session.
Click Here for the Dear Companion website.
Click Here for the Appalachian Voices website.