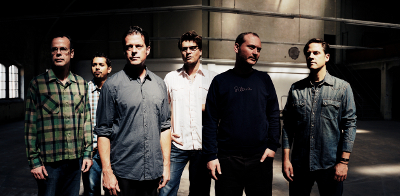 In what has been a treat for collectors like myself Calexico has been providing "Tour Only" releases since 1999 on their in-house label Our Soil Our Strength.
Their last tour release was in June, 2007 with Tool Box— a recording of instrumentals with just Joey and John rather than the full band.
This morning on the casadecalexico Yahoo group, Calexico/Giant Sand Archivist, KUAT jockey Jim Blackwood announced that there will be a new Tour CD Ancienne Belgique – Live in Brussels 2008.  It was recorded in Brussels on October 13th, 2008, and mixed at Wavelab by Craig Schumacher. It will be available during the summer Europe tour and casadecalexico.com as well.
Here is the tracklisting:
1. Bisbee Blue
2. Roka (w/ Amparo Sanchez)
3. Bend To The Road
4. El Gatillo
5. Two Silver Trees
6. Inspiracion (w/ Amparo Sanchez)
7. Minas de Cobre
8. Man Made Lake
9. Alone Again Or
10. Fractured Air
11. Red Blooms
12. Victor Jara's Hands
13. Crystal Frontier
14. Crumble [Bonus Track]
Here is the full setlist of that show from The Caliposa Setlist Archive:
01 Bisbee Blue
02 Across The Wire
03 Roka (w/ Amparo Sanchez)
04 Bend To The Road
05 The News About William
06 Writer's Minor Holiday
07 Black Heart
08 Slowness (w/ Francoiz Breut)
09 Ballad of Cable Hogue (Francoiz Breut)
10 El Gatillo
11 Two Silver Trees
12 Inspiracion (w/ Amparo Sanchez)
13 Minas de Cobre
14 Man Made Lake
15 Alone Again Or
16 Fractured Air
17 Red Blooms
————————————-
18 Victor Jara's Hands
19 Les Jeunes Pousses (w/ Francoiz Breut and her band)
20 Guero Canelo (w/ Amparo Sanchez and Francoiz Breut's band )
—————————————–
21 Crystal Frontier
It is interesting to see what songs they had to cut. All of the songs that had Francoiz Breut and her band in them were edited out.
Still, a nice selection of songs and the Carried to Dust songs have been sounding really good on tour. Amparo Sanchez from Amparanoia reprises her part on "Inspiracion" from Carried to Dust and adding her vocals to "Roka."
The website doesn't mention where the bonus track "Crumble" was recorded.
Here are some YouTube videos of the performance– which are gorgeous (what, no DVD release??)
"El Gatillo" from Ancienne Belgique – Live in Brussels 2008

"Inspiracion" (with Amparo Sanchez) from Ancienne Belgique – Live in Brussels 2008

"Fractured Air" from Ancienne Belgique – Live in Brussels 2008

"Red Blooms" from Ancienne Belgique – Live in Brussels 2008
Click Here to order Ancienne Belgique – Live in Brussels 2008 ($18 US, $21 World)