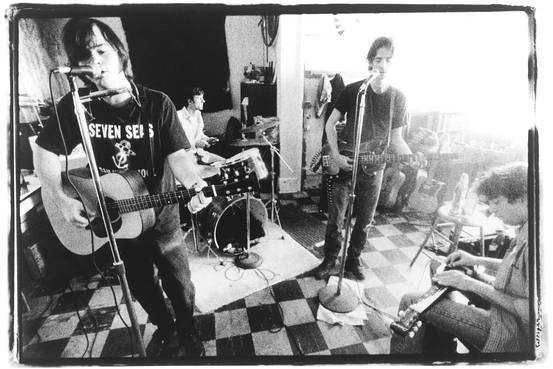 On October 30th, we were blessed with the 20th Anniversary remastered reissue of Jay Ferrar's debut post-Uncle Tupelo album Trace. Widely regarded as one of the great early Americana releases, it was due for some reissue love and attention. For one thing, it got a much-needed 180g vinyl release, which saved me personally– I narrowly avoided spending $75 on a new-old-stock copy from Ferrar's site (Discogs.com has had copies going for over twice that amount!). Secondly, the CD and download versions were expanded to include bonus demos and a 2nd disc of their February 12, 1996 performance at The Bottom Line in New York City.
This week on Son Volt's Facebook page, they posted two videos of the test pressings for a 2 LP vinyl release of the Bottom Line show which is slated for Record Store Day 2016.
Ferrar said in a recent interview about the show, "In terms of the Bottom Line show, yeah, it's a live show, and there will be some hiccups here and there, but part of what I can hear is that it sounds like my singing voice is almost scorched from smoking cigarettes. You know, there was a very small dressing room at the back of that club, and it was probably the size of a closet. At that time, all five guys in the band were smokers, so that record could've just been called, Five Dudes Smoking in a Closet. [Laughs] I can still sing it seems like, but I can barely talk… It was recorded with that mobile recording truck on analog tapes, so you're not going to get a better sound than that. I wish I had more information on that truck; I couldn't really track it down. There was a similar show, if not this one, that was recorded with the Rolling Stones' mobile recording truck. Doing a little research, their truck was in New York in 1996 when this show was recorded, but I just can't say for sure it was the one."
Here is the tracklist. We don't know how the songs will be split up by LP side yet. It includes most of the songs from Trace (not the Ron Wood cover "Mystifies Me") as well as some Uncle Tupelo songs and a Del Reeves cover.
Live from the Bottom Line/February 12, 1996
01 – Route
02 – Loose
03 – String
04 – Catching On
05 – Live Free
06 – Anodyne – Uncle Tupelo
07 – Windfall
08 – Slate – Uncle Tupelo
09 – Out Of the Picture
10 – Tear Stained Eye
11 – True to Life – Uncle Tupelo
12 – Cemetery Savior – from Straightaways
13 – Ten Second News
14 – Drown
15 – Looking for a Way Out – Uncle Tupelo
16 – Chickamauga – Uncle Tupelo
17 – Too Early
18 – Looking at the World Through a Windshield – Del Reeves cover
Here is a YouTube playlist I created of all of the songs that are conveniently there: