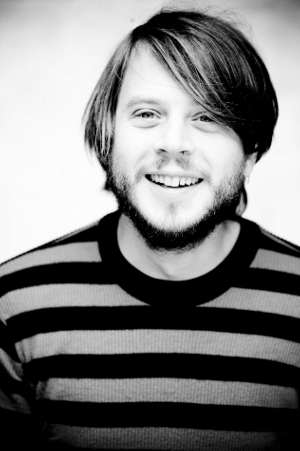 I had the opportunity to hear a unique album this week. Marco Benevento's second solo album Me Not Me (The Royal Potato Family, 2009). Me Not Me is an inspired collection of original compositions and covers all interpreted largely with the acoustic piano carrying the melodies and layers of drums, bass, and effects coming from Farfisa, Optigan, Mellotron, and circuit bent toys filling out the tonal landscape of each song.
What struck me immediately was the beautiful piano parts rising out of each of the songs. I'm a sucker for piano parts and passages of this album remind me of some of my favorite piano jazz.
Of course, some of this is because of the strong melodies in the songs he chose. Me Not Me is an interesting, if obscurish collection of covers. Other than the cover of "Golden" by My Morning Jacket and the cover of "Friends" off of Led Zeppelin III, I wasn't familiar with even the songs from the more famous artists like Beck ("Sing It Again"), George Harrison ("Run of the Mill") and Leonard Cohen ("Seems So Long Ago Nancy") but each seem to be strong choices. The choice of modern buzzworthy bands like Deerhoof ("Twin Killer") and The Knife ("Heartbeat") seems to provide and intersting juxtiposition of old and new. The three original Benevento compositions on the CD fit right in with the other songs giving a consistent sound and feel. I've only had the CD a couple of days and I'm already finding myself returning to it repeatedly!
So, I was pretty excited to hear that Marco Benevento and his trio (with Matt Chamberlain and Reed Mathis from the album) would be stopping in Iowa for two dates in April– Vaudeville Mews in Des Moines on Friday, April 10th (6:30PM: $10 in advance, $12 at the door), and at CSPS in Cedar Rapids on Sunday, April 12th after a show in Minneapolis at the Dakota (8PM: $20 cover).
Upcoming Shows:
02.24.09
Yoshi's Oakland
Oakland, CA
with Joe Russo, Peter Alpfelbaum and Josh Roseman – "Quartet the Killer" – featuring the music of Neil Young
03.05.09
River St. Jazz Cafe
Wilkes-Barre, PA
with Marc Friedman (bass) and Andrew Barr (drums)
03.06.09
Deer Head Inn
Del Wtr Gap, PA
with Marc Friedman (bass) and Andrew Barr (drums)
03.07.09
The Bell House
Brooklyn, NY
with Marc Friedman and Andrew Barr
click here for tickets
3.20.09
SXSW
The Elephant Room
Austin, TX
CD Release Show
04.07.09
Hideaway
Louisville, KY
04.08.09
Jazz Kitchen
Indianapolis, IN
04.09.09
The Space @ Northwestern University
Evanston, IL
04.10.09 Fri
Vaudeville Mews
Des Moines, IA
04.11.09
Dakota
Minneapolis, MN
04.12.09
CSPS
Cedar Rapids, IA
05.06.09
Le Divan Orange
Montreal, Canada
with Reed Mathis and Andrew Barr
05.07.09
The Wescott Theatre
Syracuse, NY
with Reed Mathis and Andrew Barr
05.08.09
The Iron Horse
Northampton, MA
with Reed Mathis and Andrew Barr
05.14.09
Merkin Concert Hall
New York, NY
with Reed Mathis and Andrew Barr
Click Here to visit Marco's Website (totally check out their version of "She's Not There" by the Zombies!)
Click Here to visit Marco's MySpace page which has tracks streaming from Me Not Me.