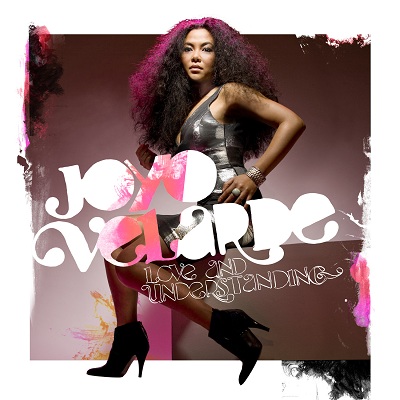 Wow. At long last it appears that we are within reach of the hip hop Siren of the Bay Joyo Velarde's first full-length! Titled Love and Understanding, it will release on Tuesday 2/16 on Quannum Projects.
Joyo's history with Quannum Records starts before Quannum when DJ Shadow, The Gift of Gab, Chief Xcel and Lyrics Born formed Solesides Records where she provided her background vocals to early releases by Lyrics Born, Blackalicious and Lateef. When the crew disbanded Solesides in 1999 and re-emerged as the Quannum Collective we got to hear Joyo as a lead singer on the track "People Like Me" which was part of the maiden release Spectrum which featured all of the original Solesides Crew. This was quickly followed up by a single of the pretty and airy Caribbean feel of "Sweet Angels."
The promise of a full album for Joyo existed for nearly a decade– which isn't to say she wasn't busy recording providing her backing vocals for countless other releases and providing a constant presence with Lyrics Born on record and on tour. In retrospect it really seems like the four releases from Lyrics Born starting with the 2003 blockbuster Later That Day, 2005's Same Sh*#%t Different Day, Overnite Encore live album, and 2008's Everywhere At Once and the constant touring requirements put a voluntary hold on the recording of the album. Add to that the fact that Joyo and LB got married and had a baby in the meantime and one can see how this might take a back seat!
Thankfully, she was in the studio working on this album almost the entire time– so we were given a taste of what was to come with a couple of releases– The Hey Love! Mixtape in September 2008 included "Build This World," and "Take You Home", and her EP which was released last April included "Build This World," "The Way We Are,"  and "Take You Home."
In addition to the obvious participation from Lyrics Born, who is the Executive Producer for Love and Understanding, additional help was provided by Jake One, Asa Taccone, RJD2, Tommy Guerrero, Headnodic of the Crown City Rockers and Jumbo the Garbageman from The Lifesavas.
It will be interesting to see if Joyo tours for this. Hubby Lyrics Born's next album As U Were is damn near completion and should drop any day assumedly. A tour for LB with Joyo opening would be really great, I think.
Tracklisting for Love and Understanding:
Mama's Got a Brand New Swag' (So Exquisite) feat. Lyrics Born
Build This World
Strong Possibility feat. Lyrics Born
Ticket To Love
With Feeling
The Way We Are
You Got Me (In the Mood)
Lower Deck
Feels Right
Take You Home
On and On
Click Here to download "Certain Special Way" from Love and Understanding due to drop 2/16/10.