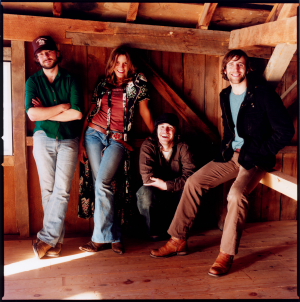 Grace Potter and the Nocturnals will be taking their act for a run this Fall supporting Gov't Mule. On this tour they will be stopping at some key Midwestern cities including Madison, Minneapolis, Chicago and St. Louis. In addition to those stops they will pause briefly in Des Moines at the Hoyt Sherman Theatre on Friday, November 2nd.
Grace Potter has been gathering some PR steam lately. I was watching the ABC TV show "Men in Trees" with my wife this weekend and heard "Apologies" from her new album over the ending scenes of the show providing a seemingly poignent mood to it.
I'm planning to hit the show– it's only a couple of hours from Cedar Rapids. I'm using this show as an excuse to brush up on Gov't Mule. I'm pretty familiar with their relationships with the Allman Brothers Band, Derek Trucks, and that camp, but really nothing else. I'm pretty disappointed in the dearth of "free" content available on the web for me to sample. Their MySpace page only has tracks from their new album Mighty High– which is a dub/reggae album. Really interesting, but probably not representative of what I might hear live. I finally found a blog called "Here Comes the Flood" that posts mp3's and included a show from Holland in July of this year. I downloaded the three sets and put them on the iPod. I like what i hear so far!
Here is Grace Potter and the Nocturnals new video "Ain't No Time" taped at the 8X10 in Baltimore this Summer on YouTube. Here is a higher quality version on Vimeo.
Here are the dates Grace Potter and the Nocturnals will be playing this year:
| | | | |
| --- | --- | --- | --- |
| October 17th | Millennium Center | Winston-Salem, NC | 6:00PM doors, all ages, supporting Gov't Mule |
| October 18th | War Memorial | Nashville, TN | 7:00PM doors, all ages, supporting Gov't Mule |
| October 19th | Tabernacle | Atlanta, GA | 7:00PM doors, all ages, supporting Gov't Mule |
| October 21st | Alabama Theatre | Birmingham, AL | 6:00PM doors, all ages, supporting Gov't Mule |
| October 22nd | Felix's Fish Camp (92 FM WZEW show) | Spanish Fort, AL | 5:00PM doors, all ages, Matt Nathanson supporting |
| October 24th | Gibson Rooftop | Memphis, TN | 5:30PM doors, all ages, supporting Gov't Mule |
| October 25th | Vogue | Indianapolis, IN | 7:00PM doors, 21+, supporting Gov't Mule |
| October 26th | Riviera Theatre | Chicago, IL | 6:00PM doors, 18+, supporting Gov't Mule |
| October 27th | Madison Theatre | Covington, KY | 7:00PM doors, all ages, supporting Gov't Mule |
| October 28th | Royal Oak Theatre | Royal Oak, MI | 6:00PM doors, all ages, supporting Gov't Mule |
| October 30th | Barrymore Theatre | Madison, WI | 6:30PM doors, all ages, supporting Gov't Mule |
| October 31st | O'Shaugnessey | Minneapolis, MN | 6:00PM doors, all ages, supporting Gov't Mule |
| November 1st | Voodoo Lounge | Kansas City, MO | 6:00PM doors, 21+, supporting Gov't Mule |
| November 2nd | Hoyt Sherman Theatre | Des Moines, IA | 6:00PM doors, all ages, supporting Gov't Mule |
| November 3rd | The Pageant | St. Louis, MO | 6:00PM doors, all ages, supporting Gov't Mule |
| November 6th | Orpheum Theatre | Flagstaff, AZ | 7:00PM doors, 21+ unless accompanied by an adult, supporting Gov't Mule |
| November 7th | 4th & B Concert Theatre | San Diego, CA | 6:00PM doors, 21+, supporting Gov't Mule |
| November 8th | Henry Fonda Theatre | Los Angeles, CA | 7:00PM doors, all ages, supporting Gov't Mule |
| November 9th | The Fillmore | San Francisco, CA | supporting Gov't Mule |
| November 10th | The Fillmore | San Francisco, CA | supporting Gov't Mule |
| November 13th | Big Easy Concert House | Boise, ID | 7:00PM doors, all ages, supporting Gov't Mule |
| November 14th | Roseland Theatre | Portland, OR | 7:00PM doors, all ages, supporting Gov't Mule |
| November 15th | Commodore Ballroom | Vancouver, BC | 7:00PM doors, 19+, supporting Gov't Mule |
| November 16th | Moore Theatre | Seattle, WA | 6:00PM doors, all ages, supporting Gov't Mule |
| November 17th | Gallatin County Fairgrounds | Bozeman, MT | 5:00PM doors, all ages, supporting Gov't Mule |
| November 30th | Highline Ballroom | New York, NY | 7:00PM doors, 16+, support TBA |
| December 1st | Theatre of the Living Arts | Philadelphia, PA | 8:00PM doors, all ages, support TBA |
| December 6th | Paradise Rock Club | Boston, MA | 8:00PM doors, 18+, support TBA |
| December 7th | Paradise Rock Club | Boston, MA | 8:00PM doors, 18+, support TBA |
| December 28th | Higher Ground | Burlington, VT | 8:00PM doors, all ages, support TBA |
| December 29th | Higher Ground | Burlington, VT | 8:00PM doors, all ages, support TBA |
| December 31st | Higher Ground | Burlington, VT | 8:00PM doors, all ages, support TBA |
| January 4th – 9th | Jam Cruise 6 | Ft. Lauderdale, FL | TBA, with Warren Haynes, Michael Franti, Galactic, Soulive, Toots & The Maytals & many more |
| January 11th | House of Blues | Lake Buena Vista, FL | 8:00PM doors, all ages, supporting Galactic |
| February 20th | Ridgefield Playhouse | Ridgefield, CT | TBA |