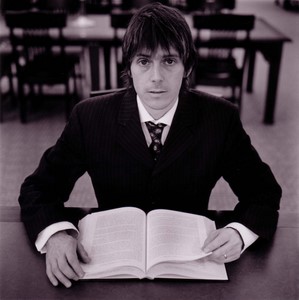 Glen Phillips is the frontman for the 90's alt-pop group Toad the Wet Sprocket. Since the group's split in 1998, Glen has participated in the occasional Toad gig, but has recorded four albums– the most recent being 2006's Mr. Lemons— and two EP's.
Last night Glen kicked off a run of solo acoustic dates that wrap up at the end of May and include a substantial number of Midwestern dates and two in Iowa! I had a chance to see him last night at World Cafe Live in Philly and it was great! I'll collect my thoughts on this show and post a review later. The majority of the songs come from his solo catalog but include the occasional Toad cover and an inspired cover song or two. Glen Phillips in a live solo setting is typically a pretty intimate engagement and well worth seeing.
If, like me you hadn't been following Mr. Phillips's solo career I recommend signing up for MyTracks if only for a month so you can download all of his solo albums and EP's except for his 2004 effort on Lost Highway that unfortunately seems to be a sore point for him. MyTracks is a subscription download service like eMusic is. For $7.95 you can download as much as you want for a month. Unfortunately Glen Phillips likely the most recognizable artist in their growing catalog. I'll check some other tracks out before I cancel. The live acoustic album SOhO Live is an exclusive to MyTracks. Recorded last Fall it is fairly representative of what his set is like. Another unfortunate thing about MyTracks in general is that all of the tracks are encoded at 128 Kbps. I guess with unlimited downloads one shouldn't complain, but I might have paid more for at least SOhO Live to get a higher bitrate. The other albums are available for download at higher bitrates from Glen's site. While you're there take a listen to his new EP Secrets of the New Explorers— fantastic stuff!
Glen will be in Des Moines at The Temple Theatre on Monday, April 14th, followed by a show at The Hub Live on Wednesday March 16th. The Hub is a new venue to me, so it would be cool to see it– however, I'm out of town on the 16th. As I was informed last night at Glen's show in Philadelphia by a friendly fan (thanks, Heather!), Toad the Wet Sprocket will be touring this summer and will be hitting Philly again– June 11th at the Trocadero as confirmed by their MySpace Page. My friend Andrew and I saw Calexico a couple of years ago at the Troc, and it is another fantastic Philly music venue in addition to World Cafe Live and TLA now rebranded "The Fillmore at TLA."
Click Here to see all of the dates Glen is playing this summer.
Click Here to visit Glen's Website
Click Here to visit Glen's MySpace Page
Click Here to visit Toad the Wet Sprocket's Website (which includes their live dates)
Click Here to visit Toad the Wet Sprocket's MySpace Page