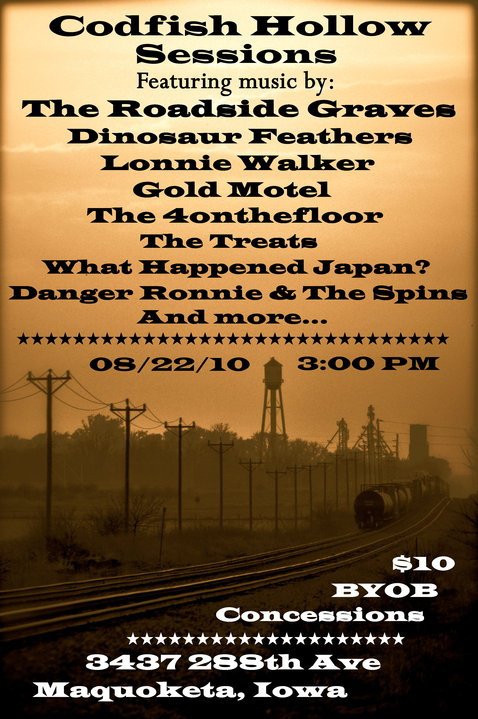 I came upon a child of God
He was walking along the road
And I asked him, "Where are you going?"
And this he told me…

I'm going on down to Yasgur's Farm,
I'm gonna join in a rock and roll band.
I'm gonna camp out on the land.
I'm gonna get my soul free.

We are stardust.
We are golden.
And we've got to get ourselves back to the garden.

— "Woodstock" by Joni Mitchell © Crazy Crow Music, 1969

This week marks the 41st anniversary of the Woodstock Music & Art Fair, which took place August 15th – 18th, 1969 in Bethel, New York. The stories and myths of Woodstock continue as that generation looks back on their history. A festival planned with idea of a gathering of music, camping and art grows to epic proportions as over twice the expected crowd shows up. The idea of a music festival changed forever and subsequent festivals in history would always be judged in the light of that event.
Last year saw the beginning of the Daytrotter.com Barnstormer shows– coincidentally on the year of the 40th anniversary of Woodstock. These shows were and are the brainchild of Sean Moeller– the Master of Ceremonies for everything Daytrotter. The idea started simply enough– pick a handful of Daytrotter favorite bands, load them in a bus and tour the Midwest countryside playing in barns. Daytrotter fans will show up and hear these bands, generating interest in Daytrotter and in these bands and hopefully the bands will be able to make some money selling merch. After learning some logistical lessons in touring and playing non-standard venues a good time was had by all!
I draw the comparison between Woodstock and the Barnstormer shows not to suggest that the Barnstormer shows are or will make their place in music history like Woodstock did, but to show that the original idea of Woodstock is the same– bring good music talent to a rustic setting, provide camping and art to mutual benefit of everyone involved. Based on the buzz of last year's small Barnstormer runs, and the first one from this year the formula works and people who aren't from this part of the country are interested in being part of it.
Frankly speaking, some of my favorite bands of 2009 and 2010 came from these shows and most of the headliners have gone on to perform to larger audiences and have become regulars on the festival circuit– notably Dawes and Local Natives— but other acts like Suckers, Ra Ra Riot and Delta Spirit are also gaining in national recognition. Seeing bands that can play the big stages of Coachella, Lollapalooza and Bonnaroo in a small intimate setting like Mooney Hollow in Bellevue, IA, Codfish Hollow Barn, Seacrest Octagonal Barn and others locations in the Midwest is nothing, if not pure magic. The bands and crowds feed from each other for what the bands generally say are their best performances.
The three Barnstormer tours (plus one Fourth of July show) have been in a changing list of towns with two notable exceptions– the Seacrest Octagonal Barn in West Liberty, IA and Codfish Hollow in Maquoketa, IA. Both locations draw very good crowds.  In the case of Seacrest it seems to be related to the relative closeness to the Quad Cities and Iowa City/Cedar Rapids (and it is a really interesting barn!). In the case of Codfish Hollow it seems to be partially due to the proximity of these same cities, but also because of the efforts of Shawn and Tiffany Biehl who seem to have enough friends and relatives to damn near fill their barn– but also because they have really made the location part of the attraction. Literally located in a hollow– there isn't enough parking near the barn for the growing crowds– nor is the winding gravel path down there wide enough for passing traffic. The solution? Have a shuttle to take campers and people parking down to the event. Not just any shuttle though– it's an open-air hayride pulled by an honest-to-goodness International Harvester tractor! This year they opened a rustic art gallery on site making use of the unoccupied farmhouse, too. Adding to the charm of it all is an open field where fans and bands play horseshoes, fire rings scattered around to provide heat and light and the amazing food sold onsite by The Lunchbox which includes their famous "walking tacos" and chili.
Next Sunday brings a staggering number of bands back to Codfish Hollow— the headliner is Daytrotter and playbsides.com favorite Roadside Graves from New Jersey. I had the opportunity to see Roadside Graves last year in Bellevue at Mooney Hollow. They were in the area in between stops on their tour because they were taping their first Daytrotter session. Sean Moeller hooked them up with Mooney Hollow to play in trade for a place to sleep. It was a Tuesday night, so that didn't bode well for a workweek crowd, but the few that showed up got an amazing and energetic show. People I've talked to that did make the show, still talk about that show– in fact, Tiffany Biehl says that show made her an instant fan of Roadside Graves and she is really excited to bring them to her barn!
This show on 8/22 was already an idea at the Barnstormer III show in April and has taken form and gained acts continually since the announcement of the show following the July 4th "Barn on the Fourth of July" show and the lineup is made up of some notable bands– most of whom are up-and-comers, but some are buzzworthy. When I talked to Tiffany at the Dawes show at Gabe's last week she said that there might be a couple of other acts added to the eight (!!!) bands on the bill. Here's the breakdown with a few words on each band with their essential links to help you learn more:
Roadside Graves from New Jersey : Anthemic Springsteen-influenced Americana
Website Daytrotter Session Facebook MySpace
Dinosaur Feathers from Brooklyn : Sunny Tropicalia like Talking Heads Swilling Pina Coladas
Website Facebook MySpace
Lonnie Walker from Raleigh : Fractured Psych Freak Folk-grass
Website Facebook MySpace Blog
Gold Motel from Chicago: Debbie Harry started a 60's girl band.
Website Facebook MySpace Blog
The 4onthefloor from Minneapolis : Four stomping kickdrums drive bluesy riffs over originals and mutated covers.
Website Facebook MySpace
The Treats from Mount Pleasant, IA : Jammy garage– kind of Blues Traveler without the harmonica.
Facebook MySpace
What Happened Japan? : ? No Internet presence we can find…
Danger Ronnie and the Spins from Maquoketa, IA : Local band… Facebook but no samples of their music.
Facebook
Tickets are $9.00 in advance and $10 at the door. Starts at 3PM. It is recommended that you bring your own lawnchair if you want to sit down and cooler as it it BYOB. This is an ALL AGES show.
Come out, camp on the land and set yourself free!
Click Here to purchase tickets for Roadside Graves at Codfish Hollow.
Click Here to see the Facebook Event for Roadside Graves at Codfish Hollow