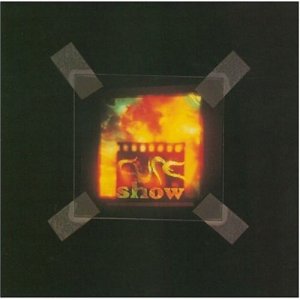 I don't know if the Cure does this on purpose, but it can be very difficult to be a Cure collector. It seems that they give their fans lots of releases to collect, but the overlap that sometimes occurs is grating.
I was reading my regular diet of music blogs this morning where I found this post from Don at Timedoor about a recent used CD find of the OOP Cure live album of their July 1989 show at Wembley titled Entreat. Entreat was another odd Cure release in that it was a collection and expansion of some live b-sides that they released on the Disintegration single "Pictures of You." I vaguely remembered this release as it kind of annoyed me at the time since I was a collector of Cure releases and this forced me to purchase a release just to get four more songs. (I picked up all four of the singles "Fascination Street," "Pictures of You," "Lovesong," and "Lullabye" in a box set with a poster called Integration.) Don includes three tracks as mp3's. There seems to be used copies of this release available.
This reminded me of the fact that the Cure pulled something similar to this in 1993 around their "Show" concert film. This film and the corresponding album was based on the Cure's two-day stop at The Palace in Auburn, MI during the behemoth Wish Tour on July 18th and 19th. I saw the Cure at the World Music Theater in Tinley Park that same tour on July 15, 1992. I still have vague recollections of sitting on the grassy hill watching the band on the big Jumbotrons with my friend Jenny.
The US release of Show on CD was a 1-CD affair, while the UK release was 2-CD. To make up for this the liner notes of Show helpfully point out that you could purchase the Sideshow maxi-single to pick up the missing five tracks. So, to recreate the entire Show 2 CD version it would look like this with the source in parenthesis:
Disc: 1
1. Tape (Sideshow)
2. Open (Show)
3. High (Show)
4. Pictures Of You (Show)
5. Lullaby (Show)
6. Just Like Heaven (Sideshow)
7. Fascination Street (Sideshow)
8. A Night Like This (Show)
9. Trust (Show)
Disc: 2
1. Doing The Unstuck (Show)
2. The Walk (Sideshow)
3. Lets Go To Bed (Sideshow)
4. Friday I'm In Love (Show)
5. Inbetween Days (Show)
6. From The Edge Of The Deep Green Sea (Show)
7. Never Enough (Show)
8. Cut (Show)
9. End (Show)
So, with the help of Amazon, you can recreate this show for $6.99 for Sideshow used, and $11.99 for Show new. Note: For some reason sellers think that Sideshow is worth over $50 new! The problem with assembling this for yourself would be splicing those tracks back in. I don't own Sideshow, so I don't know how those edits work. The recording is made up of songs from both nights, so if all of the excerpted songs were from where edits had to happen it might work. Of course, Amazon has copies of the 2-CD import available as well for less than the cost to build it if you don't already have Show or Sideshow.
Which brings us to the third live release from the Cure based on the Wish tour (well, fifth if you include the film for Show and the import 2-CD version) titled simply Paris. As the title implies this is a live record based on their three-night stint at Le Zenith in Paris in October, 1992. Looking at the setlists for October 19, 20, and 21 it appears that the songs are from all three nights. I remember picking this release up at a truckstop sometime after I moved to Minnesota in 1995 in a bin full of "discount" CD's. In fact, my copy of Show seems to be a cutout as well, so I think I bought it about the same time thinking this was part of the same show. According to the official Cure discography the video for Show and Paris were released on the same day (10/26/93), and– in the US– the CD catalog numbers are sequential [Show is Elektra 61551, Paris is Elektra 61552]. The CD for Show was released before the video on the previous Tuesday 10/19/93. The packaging for Paris is a lot simpler than Show as it is only a once-folded insert and no clear disc tray. It's pretty clear that they considered this an extra release. Apparently 50% of the royalties payable to the Cure went to the Red Cross.
The tracklist for Paris (with which dates the song was performed):
1. The Figurehead (10/20/92)
2. One Hundred Years (10/19/92, 10/21/92)
3. At Night (10/19/92)
4. Play For Today (10/19/92)
5. Apart (10/21/92)
6. In Your House (10/20/92)
7. Lovesong (10/20/92)
8. Catch (10/19/92, 10/21/92)
9. A Letter to Elise (10/21/92)
10. Dressing Up (10/19/92)
11. Charlotte Sometimes (10/20/92)
12. Close to Me (10/20/92, 10/21,92)
Paris is a pretty interesting release from the perspective that it doesn't duplicate any of the songs from the Show/Sideshow releases. The French crowd seems very excited to be at the show– at one point even singing along with the main synthesizer part in "One Hundred Days!" I guess this is why the Cure filmed the "In Orange" concert film in France. The song selection is interesting in that while Show focuses on Wish and more popular Cure songs, Paris includes some rarer songs like "Dressing Up" from 1984's The Top and "In Your House" from their 1980 release Seventeen Seconds.
All of the live releases from 1993 capture the Cure at the top of their game and a product of the Cure as a touring machines. The live albums stand up well against the rest of the Cure catalog. As I was writing this piece, I was listening to Wish and Paris and I really enjoyed them. It's probably time for me to revisit the Cure catalog in my daily commute.
In retrospect, as a fan of the Cure, it was astounding to watch the meteoric ascent of the Cure from Kiss Me, Kiss Me, Kiss Me ("Just Like Heaven") to Disintegration ("Lovesong," "Lullabye") to Wish ("Friday I'm In Love"). In 1993 the band in some form or another had been around for over twelve years. In 2009– provided Robert Smith doesn't retire again– the Cure has been around for 30 years. This puts the Cure as contemporaries of U2, who formed in 1978, and R.E.M. who formed in 1980.