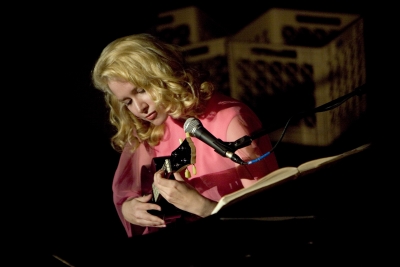 Thanks to the fine folks over at More Cowbell, I found out about Nellie McKay's three-night stop in Minneapolis at the ultra-swank Dakota Jazz Club in Minneapolis, April 6th, 7th, and 8th
As it turns out, my wife Sherry wanted to be in town that weekend anyway to celebrate her birthday with her sister so it couldn't happen at a better time. Plus, my daughter RaeEllen is a die-hard fan of Nellie ever since the first album. We called her at her dorm room tonight where she's feeling a bit under-the-weather at the moment. But, she's excited to see her at last. Nellie was in the Twin Cities late last year as part of the touring Christmas Show that Aimee Mann was doing. Unfortunately, that show didn't work out for us, which is too bad because we're fans of Aimee here at the Roeder house as well.
The show starts at 7PM and tickets for non-A Train members is $25.
Nellie has some tour dates running through the beginning of May:
Feb. 23
Los Angeles, CA
Bang Theatre, Benefit for Object
Feb. 25
Los Angeles, CA
Steve Allen Theatre Ben Karlin's "Things I've Learned from Women Who've Dumped Me"
Feb. 27-Mar. 1
Monterey, CA
TED Conference
Mar. 6
Cleveland, OH
Nighttown
Mar. 7
Detroit, MI
Detroit Institute of Arts
Mar. 9
Morgantown, WV
Creative Arts Center, WVU Campus NPR/Mountain Stage
Mar. 10
Albany, NY
Family Planning Advocates Conference
Mar. 31
New York, NY
Symphony Space NYCLU "Voices for Change"
Apr. 1
New York, NY
Joe's Pub
Apr. 6, 7, 8
Minneapolis, MN
Dakota Jazz Club
Apr. 11
New York, NY
Town Hall, A Prairie Home Companion
Apr. 12
New York, NY
Town Hall
A Prairie Home Companion (live broadcast)
Apr. 18
Easton, MD
Talbot County Auditorium
May 2
New York, NY
Rubin Museum of Art "Music Without Borders"