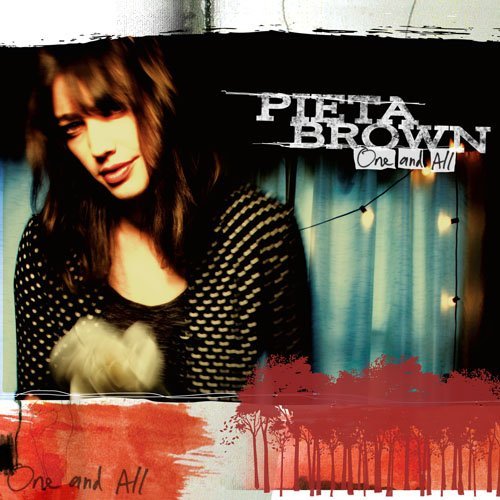 "I always wished I could paint, but I really can't. My sisters Constie and Zoe got that gene. So, I made a painting here– of one kind." — Pieta before a live performance of "Over You"
I'm awoken by the flash and rumbles of the first spring storm. 5:55 AM floods into my retinas rinsing recent dreams into faint images. In my head there's music– like every morning– a score played over the final scenes of my sleeping film I'll soon forget.
I roll on to my back and look at the runny light reflected on the ceiling and listen to the music in my head– it's "El Guero" from One and All.
Shady grove & tattoo sleeves
Pink birds in a pile of leaves
All night
All night
All night long
Honeysuckle along the street
They say you never missed a beat
Records piled against the wall
Old bass & a wrecking ball
In conjunction with the Mission Creek Iowa City music festival that happened last week where she performed, Pieta Brown put her new CD One and All (Red House Records) in a couple stores to sell a week before the release date of 4/6. Over lunch last week I ran down to Iowa City to RSVP to pick up a copy.  The week I've had with it has apparently contributed to the music that plays in my head.
One and All is the first full album and the second release (the first being the EP Shimmer, produced by Don Was) by Pieta Brown on her new label home Red House Records. Red House has become kind of a center of the Eastern Iowa Blues and Folk scene. Starting with Pieta's father Greg Brown they also have Greg's long-time friend Dave Moore as well as The Pines which has Bo Ramsey's son Benson in it. I've mentioned here before that I think the partnership of Pieta and Red House is one that ultimately should help foster her career.
After years following Bo Ramsey's career, I find myself gravitating to albums that he produced or played on and One and All has that pull for me as well.  As with the previous six releases dating back to her self-titled 2002 release on the now-defunct Trailer Records, her constant collaborator Bo Ramsey takes a key role in the sound of the album providing his vocal harmonies and trademark clean country blues guitar riffing. Joining Bo and Pieta is their regular bass player Jon Penner and drummer Steve Hayes. JT Bates who played drums on The Pines newest album also played on One and All— apparently together with Hayes on some songs according to an entry on Bates's blog.  Brian Wilkie from Chicago Bluegrass band Majors Junction provides some tasty pedal steel. Pieta's sister Constie contributes harmonies and Bo's son Alex Ramsey provides keyboards on "Faller." Additionally, Joey Burns from Calexico returns the favor of Pieta and Bo contributing vocals and guitar to "Slowness" on their 2008 album Carried to Dust by contributing cello and accordion.
Pieta delivers a gentle– almost dreamy vocal over the balanced and paced instrumentals. This is music with a sense of place more than an urge of destination. We could go somewhere but let's sit on the porch enjoying the breeze blowing through the screen door.
"Making a record always reminds me of taking photographs because it is just one moment in time, or just one version of the way that song is– kind of like a photograph." — Pieta in her "Making of One and All Documentary"
This quote as well as the one at the beginning of this review helps frame– if you will– the lyrics to Pieta's songs for me. The lyrics on One and All are made up of images– the "shady grove and tattoo sleeves", the "Pink birds in a pile of leaves" of "El Guero." The passage of "You got your fine shirt/I got a cheap cigar/You're in the sunshine/I'm in a dirty bar/Back by the jukebox/I'm lost in the sound" sets up two people in different places in their lives and in their surroundings.
These are the parts of her "painting– of one kind."
We're never told who these portraits are of– or even the full story. These paintings are not studies in the hard oil of realism, but more the impressionistic water color. The fading dream recounted to another. The details leave, but it is the feelings that hold.
If art is in the eye of the beholder, it is because we can become part of a piece by completing it with our particular experience. With One and All we are left to interpret this picture with our own details– the jukebox at our local bar, our own records against the wall, the pile of leaves at our feet. Pieta has created in One and All an album that draws the listener in– a welcomed– if gently engaging soundtrack.
Note:  In concert, Pieta does offer a clue about one song on One and All. In "Faller," Pieta describes seeing Tom Petty backstage at a show she and Bo played at McCabe's Guitar Shop opening for JJ Cale in March of 2009. The story goes that JJ ran into Tom Petty and Mike Campbell of the Heartbreakers at a bar across the street and invited them to come sit in on his set. As a result, Bo and Pieta met Tom. Pieta sings "I see you leaning/against the wall/looking like/You might fall." I picture a tall, lanky Petty precariously leaning on a wall. "It's a long hallway/for a small place/A crowd of people/In your face."
Click Here to visit Pieta Brown's website.
Click Here to download or listen to "Faller" from One and All.