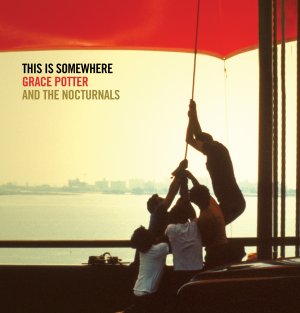 Apparently Grace Potter is early enough in the arc of her career that she doesn't get blatantly pissed off when presented with the natural comparisons about her band's sound. When you are relatively new in the scene comparisons are the only useful way to explain to others what the band sounds like. A lot of the reviews and interviews drag the band across comparisons that run from (a young) Linda Ronstadt to Janis Joplin to Bonnie Raitt and Tom Petty and the Heartbreakers and the Black Crowes.
On their third album and first major-label release Grace and the Nocturnals are kicking it 1973-style. While Neil Young proclaimed that Everybody Knows This is Nowhere, this group claims the opposite in This is Somewhere. Somewhere seems to be the accomplished classic sound that the band effortlessly evokes.
The band appears to have fallen into the jamband genre– they opened for Trey Anastasio, they are from Burlington, Vermont (onetime home of Phish) and are going to be touring opening for Gov't Mule through October. However, on This is Somewhere the band has put together a concise, consistent album of ballads, stomping soulful rockers, driving funky rolling piano-fueled songs, Faces-era dirty slide blues and a gospel tune that I think has a wider appeal than the summer festival crowds. I've had the promo for this album for over two weeks and have listened to it I'm sure over a dozen times. I found the album stands up to repeated listenings and manages to provide some nice head-bobbing hooks. I really like this album and am looking forward to seeing Grace and Co. live. I'm already downloading some of the shows out on Archive.org (see link below).
Some standout songs on This Is Somewhere are the subtle protest song "Ah Mary," the stomping, sexy call for love "Stop the Bus," "Mr. Columbus" which reminds me of the Heartbreakers– particularly the main guitar lick, "Falling or Flying," and "Big White Gate." The last two I listed are the last two tracks on the album and provide a very powerful conclusion. "Falling or Flying" is a soulful, bluesy song of reflection and hope and probably my favorite song on the record.
To date the band has appeared on network TV shows in support of This Is Somewhere three times (Leno, Good Morning America, and Craig Ferguson) and Grace Potter provides a strong, pretty front to her band and I'm sure that this group is destined for more exposure. Her soulful belting voice and mini-cocktail dresses exposing her legs behind her Gibson Flying-V guitars leaves a pretty memorable impression. Interviews with Grace I've read portray an earthy, honest, and grounded band excited for this opportunity to take their careers to the next level.
On "Falling or Flying" Grace sings "so, play every show like it's your last" and it seems like this band is taking their own advice.
Buy This Is Somewhere
from Amazon.com
Buy This Is Somewhere from iTunes
Grace Potter and the Nocturnals MySpace Page
Grace Potter and the Nocturnals Official Website
Grace Potter and the Nocturnals at archive.org Live Music Archive
Listen to "Ah Mary" from This is Somewhere
Grace Potter and the Nocturnals at Indie911.com with a Hoooka