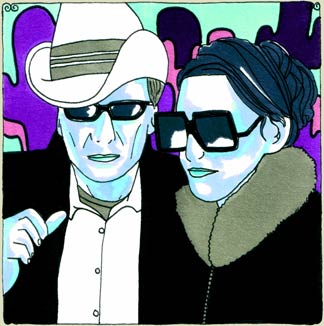 A cool and unexpected offering from Daytrotter– Pieta Brown with hubby Bo Ramsey performing tracks from her fantastic 2007 release on One Little Indian Remember The Sun plus a couple of unreleased tracks.
I think it is really admirable that Daytrotter, which calls its home The Quad Cities (specifically Rock Island) and chooses to occasionally feature regional acts to the watching planet.
I hope that they had the opportunity to record Bo as well. If not, they should try to get him on the schedule.
Click Here to read the article on Pieta Brown at Daytrotter and download yourself some mp3's.
While I was putting this article together I noticed that Pieta will be playing in Marion, IA at the very cool Campbell-Steele Gallery on October 10th. Campbell-Steele is the home of the funny and musical Liar's Holographic Theatre. Tickets are 25 smackers, but the art gallery is a very intimate place to see performances and Pieta would be a wonderful artist to see there.
Damp and Cool, Crisp and Warm — The Country Canvas: Pieta Brown