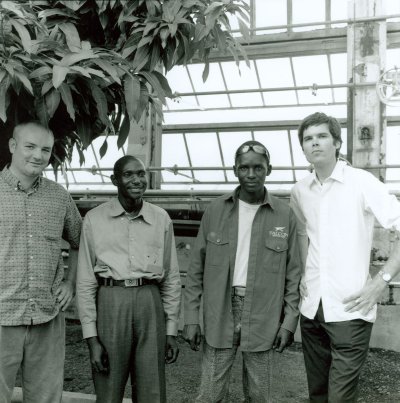 Extra Golden is a cross-continental band made up of U.S. and Kenyan members and have put out two extraordinary releases on Thrill Jockey since 2006. I found about their first release Ok-Oyot System quite accidentally while shopping for records in Chicago in the Spring of 2006 at the fantastic Jazz and Blues Record Mart. They carry most of the Thrill Jockey catalog, which is related to their own "in-house" label Delmark in that a few TJ projects (The Chicago Underground Trio and Jeff Parker) recorded albums on Delmark. What I heard took me completely by surprise in that I wasn't expecting to hear the Benga grooves on a Thrill Jockey release!
Extra Golden gained some notoriety as a result of some help from Democratic Presidential hopeful and Oprah B.F.F. Barack Obama gaining them visas which allowed them to play a large World Music Festival in Chicago as well as cram in some studio time which resulted in the band's second album Hera Ma Nono. On it they recorded a song of gratitude called "Obama."
Violence has erupted in Kenya as a result of protest riots over the election results of December 27th which gave President Mwai Kibaki a second term– guaranteeing a dangerous status quo in Kenya. The Kenyan contingent of Extra Golden have experienced personal losses due to the looting and have had to move to safety. Unfortunately, the dusk-till-dawn curfew have prevented the men from supporting their families by playing their music at clubs that have closed. Their situation has turned desperate as they have no way to get food and their children are getting sick from drinking dirty water.
This week the U.S. members of the band Ian Eagleson and Alex Minoff have updated the band's website and MySpace page reaching out to fans of the band asking for donations to help. Their asking for $5 or more donations and have provided a link to a page to take PayPal payments.
Last night NPR had a story on the band which is timely considering the tie-ins with the major stories of the day. I'm sure that the needed extra exposure from that as well as the coverage on Pitchfork will help drum up the much-needed cash to help the band members out.
Click Here to visit NPR's page on their Extra Golden story as well as listen to the audio portion.
Click Here to visit Extra Golden's Official Page and to donate.
Click Here to visit Extra Golden's MySpace Page and listen to tracks from their albums including "Obama."