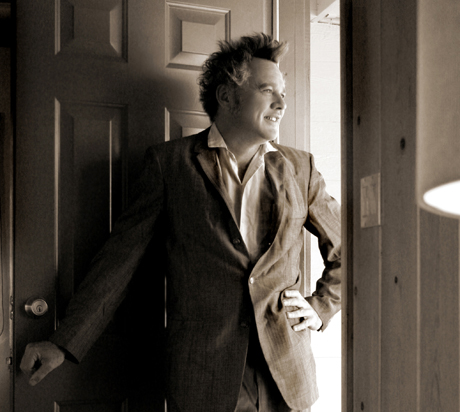 Former Jayhawk and Creekdipper Mark Olson is coming back to Eastern Iowa in February. He was in Iowa City in August at the Mill touring for his first solo album The Salvation Blues. The tour continued through the Fall followed by a run through Europe and now he's back in the States on an ever-growing list of dates which includes Cedar Rapids!
Mark's new album The Salvation Blues is very stripped-down and personal view of a man dealing with loss in his life– the resulting catharsis is strikingly, achingly beautiful and shows Olson at the top of his craft. Providing familiar harmony vocals on three of the tracks is former Jayhawk Gary Louris.
Gary Louris's new album titled Vagabonds will be released on Rykodisc on February 19th.
The packaging of the CD that I have is a small replica of a hardback book complete with dustjacket! The CD itself is stamped as if the book was either checked out or possibly stolen from the San Bernardino County Library in Joshua Tree.
Mark will be performing at CSPS which is the walk-up art gallery and performance space in the New Bohemia area of Cedar Rapids on Wednesday, February 13th, 2008 at 8PM. The tickets are $13 in advance and $16 the day of the show. If you haven't been to CSPS you should make an effort to get to one of the best music venues in Eastern Iowa. It is a cozy, intimate, non-smoking venue that is the perfect way to see an artist like Mark perform.
Download "Clifton Bridge" from The Salvation Blues
NPR Radio Show with Video from November interview and performance of Mark Olson
Mark Olson's MySpace Page which has four songs from The Salvation Blues.
Mark Olson's Facebook Page which has three songs on it.
Visit HackTone and click on Mark's album to hear more tracks.