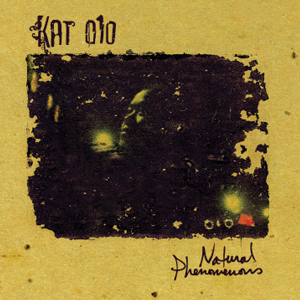 Last week I got a MySpace friend request from someone named "Kat 010" I nearly deleted it, but her picture wasn't the typical generic babe-in-bikini spam, so I checked it out. I was surprised to see that "Kat 010" was Kat Ouano who played keyboards on Lyrics Born's live album Overnite Encore and was part of the live band for most of the last couple of year's tours. In fact, she was part of the band when I saw them in November, 2006 in Minneapolis.
Kat Ouano is really better known as the keyboardist in the group Crown City Rockers— a live instruments and MC hip-hop group. Headnodic, the bassist from Crown City Rockers is also a member of The Mighty Underdogs with The Gift of Gab and Lateef the Truth-Speaker.
Kat has just released her first solo album titled Natural Phenomenons. Phenomenons is an instrumental album written, arranged, performed by Kat and comes as a digipak CD, or a very limited edition POP-UP version that is signed or dedicated! About the Pop-Up edition, Kat says, "With this ever changing world of music, it seems to me that music is getting more and more disposable by the minute….Making this Limited Edition Pop Up CD is my romantic way of making the music personal again. Each Pop up CD is imagined, handcrafted and assembled by me, and if you choose, it can be autographed and dedicated." She is certainly an artist who understands the collectors in her audience!
You can see pictures of the pop-up editions (there are two) HERE. This is also the page to order your copy.
Click Here to listen to a 5-minute mp3 of snippets of tracks from Natural Phenomenons. I've only heard this mp3 and the tracks up on her MySpace page, but her version of electronic keyboard grooves and beats reminds me at times of the best atmospherics of Air and the funkiness of Money Mark. I'm certainly going to put this on my wish list!