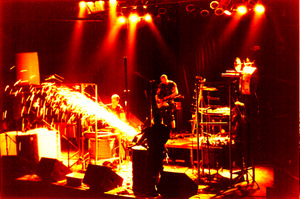 Savage Aural Hotbed have been delivering their brand of Industrial music for 20 years this year. SAH's brand of Industrial music is not to be confused with the 90's and later flavors of Industrial served up by bands like Nine Inch Nails, Ministry or KMFDM, but closer to the original Industrial movement which influenced those bands. In the 1970's bands like Throbbing Gristle, Cabaret Voltaire but has even more in common with Einstürzende Neubauten in that it uses custom-built instruments– made from "found objects" scrap metals and other tools– to achieve an actual "industrial" sound.
The Minneapolis band which formed in 1988 describes themselves as "four people who can't seem to use containers, auto parts or power tools in the intended manner." Their live shows could be considered performance art and the bands influence from Japanese "Taiko" drumming pre-dates touring Broadway troupes like "Stomp!" and The Blue Man Group.
This weekend Savage Aural Hotbed will be bringing their show for a two-night engagement at CSPS in Cedar Rapids– Friday April 24th and Saturday, April 25th. Both shows start at 8PM and tickets are $13 in advance and $16 the day of the show.
Following the shows, the band will be holding an open drum jam and folks are encouraged to bring drums, homemade drums or junk instrument along to the show.
It's rare for Cedar Rapids to get this kind of performance– so don't miss this opportunity!
Click Here to visit the Facebook event for Friday Night
Click Here to visit the Facebook event for Saturday Night
Click Here for the Legion Arts page on the Savage Aural Hotbed show and how you can get tickets.
Click Here for Savage Aural Hotbed's Website
Click Here for Savage Aural Hotbed's MySpace Page