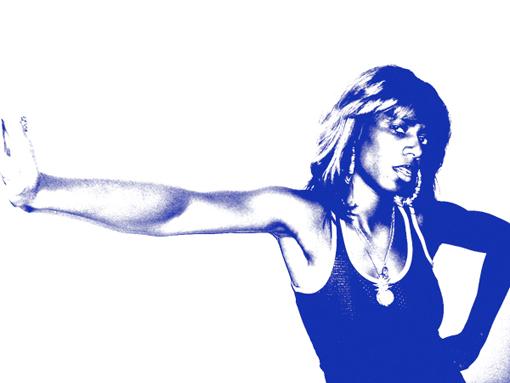 Santi White aka Santigold formerly Santogold is kicking off her first North American tour on May 21st in San Francisco according to New Music Express.
 The 20-date tour makes a stop at Bonnaroo on June 20th, and the Roots Picnic in Philly on June 6th as well as some key stops in the Middle-west– a surprising Des Moines stop at People's Court in Des Moines on 5/29 (yay!) and First Ave in Minneapolis on 5/28 and a stop on June 6th in St. Louis.
I'm not sure why the Windy City didn't get invited to the party, but them's the breaks, I guess!
Santigold's eponymous debut album came out in 2008 and blew up all over the place with no less than five singles including the "L.E.S. Artistes" which seemed to be on every TV show and commercial as a soundtrack. The album is genre-jumping, but fits comfortably next to bands like The Yeah Yeah Yeahs and M.I.A. (the latter sharing some tweaking from Diplo). The 80's New Wavish anthems and forays into Ska were a permanent part of the greatest hits at our house last year.
Santigold will be joined on this tour by DJ Trouble Andrew who worked with her on the Pixies-divining "I'm A Lady" as well as Philly MC Amanda Blank. Check her MySpace to hear her flow over a Diplo remix of "I'm A Lady."
Click Here for Santigold's MySpace Page
Click Here for Amanda Blank's Website
Click Here for Trouble Andew's Website here's his MySpace Joint
Click Here for IowaTix, to order the tickets for the People's Court show. Click Here for the People's Court MySpace page.
Click Here for the First Ave Event Calendar
| | | |
| --- | --- | --- |
| | Ultra Music Festival | Miami, Florida |
| | Roxy's Chicken Jam | Mammoth, California |
| | The Warfield w/ Amanda Blank and Trouble Andrew | San Francisco, California |
| | Empire w/ Amanda Blank and Trouble Andrew   | Sacramento, California |
| | Cuthbert Amphitheatre | Eugene, Oregon |
| | Sasquatch! Festival @ The Gorge | George, Washington |
| | First Avenue w/ Amanda Blank and Trouble Andrew | Minneapolis, Minnesota |
| | Peoples Court w/ Amanda Blank and Trouble Andrew   | Des Moines, Iowa |
| | Rams Head Live w/ Amanda Blank and Trouble Andrew | Baltimore, Maryland |
| | House of Blues w/ Amanda Blank and Trouble Andrew | Boston, Massachusetts |
| | Phoenix Concert Theatre w/ Amanda Blank and Trouble Andrew | Toronto, Ontario |
| | Metropolis w/ Amanda Blank and Trouble Andrew | Montreal, Quebec |
| | The Roots Picnic @ Festival Pier | Philadelphia, Pennsylvania |
| | The Norva w/ Amanda Blank and Trouble Andrew | Norfolk, Virginia |
| | Terminal 5 w/ Amanda Blank and Trouble Andrew | New York, New York |
| | 9:30 Club w/ Amanda Blank and Trouble Andrew | Washington DC, Washington DC |
| | Bonnaroo Music & Arts Festival | Manchester, Tennessee |
| | Barcardi B Live @ The Pageant w/ Amanda Blank and Trouble Andrew | St. Louis, Missouri |
| | Stubb's Waller Creek Amphitheater w/ Amanda Blank and Trouble Andrew | Austin, Texas |
| | House of Blues w/ Amanda Blank and Trouble Andrew | Houston, Texas |
| | House of Blues w/ Amanda Blank and Trouble Andrew | Dallas, Texas |
| | Hollywood Bowl / KCRW World Festival Series | Hollywood, California |