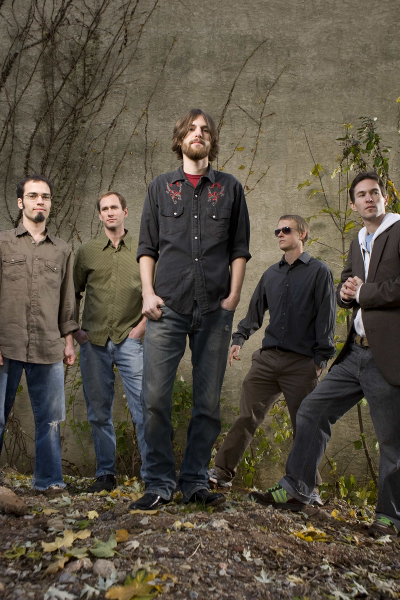 Although the band Lotus is one of the new additions to the SCIFidelity stable of bands, their label debut Hammerstrike in 2008 was actually their seventh release since their formation in 2002 in Goshen, Indiana at Goshen College (according to their Wikipedia article). With the label switch, Hammerstrike proved to be a refining and commitment to the more instrumental and unique sound that Lotus had started to drift towards in 2006 with The Strength of Weak Ties. If Umphrey's McGee is a jamband with Prog Rock leanings, Lotus is a jamband with Post Rock leanings.
After Hammerstrike, the band continued their regimine of extensive touring pausing only to revisit some tracks for the album that either weren't completed or the band didn't feel fit. These tracks were completed and collected into two EP's released in October– Oil on Glass and Feather on Wood. In addition to the eight new songs, they include three remixes of tracks from Hammerstrike.
Lotus just announced a run of dates in February 2010 which includes two nights in Madison at the Majestic and Davenport at the wonderful Capitol Theatre. I saw Umphrey's McGee in July at the Capitol and was really impressed with it– a nice old theatre with beautiful ceilings and a balcony.
Click Here to visit Lotus's Website which includes tourdate updates and news.
Click Here to listen to live shows on archive.org
Click Here to listen to "Simian" from Oil on Glass live at The Town Hall in Buffalo, NY on 10/30/09
Winter 2010 Tour Dates (from lotusvibes.com)