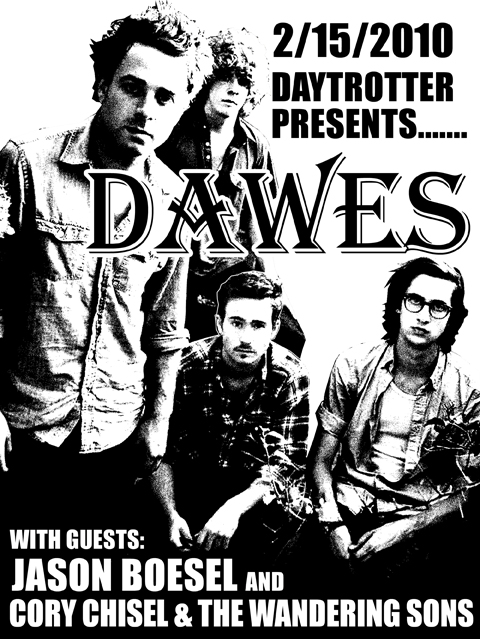 Some of the great shows I saw last year were part of the legendary Daytrotter Barnstormer shows— I experienced some very powerful performances in these cozy barn settings. One of the bands that really delivered some transcendent shows was Dawes. And, frankly, most everyone I've talked to who has experienced Dawes' live show says the same thing. It's like a rock and roll revival.
Dawes will be back in the area delivering their sermon of  multi-part harmonies and Heartbreaker guitars on Monday, February 15th at The Rock Island Brewing Company along with Cory Chisel and Jason Boesel.
I wasn't familiar with Chisel or Boesel, but the tracks I've sampled so far and their Daytrotter Sessions place them firmly in the same Leftcoast Americana sound that Dawes has perfected and will make for a great show.
Jason Boesel is breaking out of his constant definition as being the drummer for Rilo Kiley by releasing his own album Hustler's Son. Jason had a lot of support with his new album. It was produced by Jonathan Wilson who also produced Elvis Costello's Momofuku as well as Jenny Lewis's Acid Tongue, and had session players Benmont Tench of the Heartbreakers, in addition to David Rawlings who worked with Gillian Welsh as well as Old Crow Medicine Show and some help from tour mate Taylor Goldsmith of Dawes.
Cory Chisel is from Appleton, WI where he's  lived for over 20 years. His upbringing sheltered him from pop music, but was largely influenced by relatives who were musicians and exposed him to a lot of classic folk, country and blues artists from which he draws a lot of his inspiration. His new album Death Won't Send A Letter is out on Black Seal records and his song "Born Again" has been garnering a lot of positive press. Death Won't Send A Letter is going to, according to his website, get a vinyl pressing on February 8th. Additionally, the band will be sharing a live split 7″ with Dawes!!
Don't sleep on this folks– the show will sell out.
Here is the Facebook Event for this show

2/15/10 – 7p.m. – ALL AGES – $8 adv/$10 at door
Rock Island Brewing Company (RIBCO)
1815 2nd Ave. Rock Island, IL
Here is all of the digital support needed to convince yourself to get out to this show:
Click Here to check out Dawes' Daytrotter Session
Click Here to visit Dawes' website
Click Here to visit Dawes' MySpace page
Click Here to listen to "When My Time Comes" by Dawes
Click Here to check out Cory Chisel and the Wandering Sons Daytrotter Session.
Click Here to visit Cory Chisel's Website.
Click Here to visit Cory Chisel and the Wandering Sons MySpace Page
Click Here to listen to/download "Born Again" by Cory Chisel and the Wandering Sons.
Click Here to check out Jason Boesel's Daytrotter session which was recorded during the last run of Barnstormer shows in October.
Click Here to visit Jason Boesel's MySpace Page
Click Here to listen to "Hand of God" from Hustler's Son
Here are the tour dates for Dawes and Cory Chisel and the Wanderers:
02.05.10        Santa Cruz, CA                  The Crepe Place
02.06.10        San Francisco, CA              The Rickshaw Stop
02.08.10        Portland, OR                      Mississippi Studios
02.09.10        Seattle, WA                      Tractor Tavern
02.12.10        Minneapolis, MN                 Triple Rock
02.13.10        Madison, WI                     University of Wisconsin
02.14.10        Milwaukee, WI                   Turner Hall
02.15.10        Rock Island, IL                   Daytrotter Presents @ Rock Island Brewing Co.
02.16.10        Chicago, IL                        Double Door
02.17.10        Columbus, OH                     The Rumba Café
02.18.10        Cleveland, OH                    Beachland Ballroom
02.19.10        New York, NY                     Bowery Ballroom
02.20.10        Allston, MA                        Great Scott
02.21.10        Freehold, NJ                      Concerts in the Studio (Cory Chisel only)
02.22.10        Easton, MD                       The NightCat (Cory Chisel only)
02.23.10        Arlington, VA                     IOTA Club and Café
02.24.10        Philadelphia, PA                  Johnny Brendas
02.25.10        Charlottesville, VA               The Southern
02.26.10        Louisville, KY                      Zanzibar
02.27.10        Nashville, TN                      Mercy Lounge
02.28.10        Atlanta, GA                       Eddies Attic
03.02.10        Little Rock, AR                   Sticky Fingers
03.03.10        Oklahoma City, OK              The Conservatory
03.04.10        Dallas, TX                         The Cavern
03.05.10        Houston, TX                      Rudyards
03.06.10        Austin, TX                         Emos
03.09.10        Phoenix, AZ                      Rhythm Room
03.10.10        San Diego, CA                    The Loft at UCSD
03.11.10        Los Angeles, CA                 The Troubadour