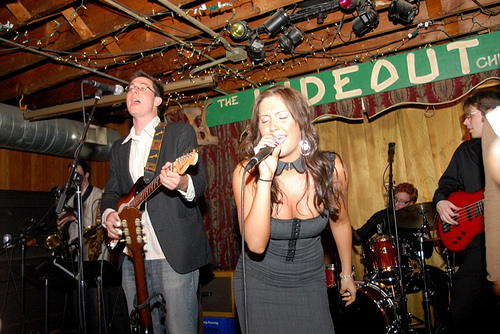 Eli Jones is an eight-piece band from Chicago that delivers tight accomplished Soul and R&B that draws equally from the annals of classic R&B and Soul of Stevie Wonder and Aretha Franklin or Stax as it does from the contemporary renewed interest in authentic Soul and R&B delivered by Alicia Keys, John Legend or Joss Stone. The seven-piece Eli Jones band led by the tasty guitar tone of Brendan O'Connell deftly supports the vocal powerhouse of Stefanie Berecz.
The band started in 2005 as a trio and added horns and Berecz arriving at their current lineup in 2007. They released their first studio album Make It Right in November of 2007 and are planning to release their second album in the Summer of 2009. The band has been gigging steadily around the Midwest and played Mahoney's in Cedar Rapids back in April to a receptive crowd.
The group is coming back to the area again next weekend playing The Busted Lift in Dubuque on Saturday, December 6th, and here in Cedar Rapids at Mahoney's on Sunday, December 7th. I'm not sure about the cover at the Busted Lift, but the Mahoney's show is FREE! I can't think of a better way to wrap up a weekend than some soulful, funky R&B, really. You can always watch "Desperate Housewives" online or Tivo it.
Click Here for the Facebook Event Page– let the band know you're coming!
Click Here to visit Eli Jones's website. They have four songs that you can stream.
Click Here to visit Eli Jones's MySpace Page
Click Here to see the shows up on Archive.org
Click Here to listen to an amazing acoustic "Candlelight and Satin Sheets" from Alice FM in May. The song is taken to an intimate singer-songwriter performance.