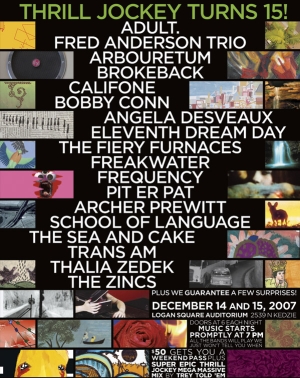 After a day downtown of lunch with a couple of Erik's friends and some light shopping Erik and I made our way back over to Logan Square. It started snowing ominously around lunchtime and didn't look like it was going to let up. Undeterred, we were committed to seeing more bands and we were especially interested to see Califone, but we also heard from one of the guys at Restless Records that Tortoise would be making an appearance!
We got there early to secure a good parking spot and decided to eat at Johnny's again. We had a late lunch so we weren't really hungry. We split an order of fries and Erik got a grilled cheese or some kind of melt. We made our way over to the venue and hung out in the hallway waiting for the doors to open. We talked to the other early-arrivers and the security guys from the Empty Bottle.
While we were standing there we saw Tortoise bassist Doug McCombs walk out and in as well as guitarist Jeff Parker. Before the show I thought that Tortoise wouldn't be able to play as Jeff was performing at another show that night. I asked Jeff if he was still doing that and he said he was– so he came to this show did his thing with Tortoise and left to do that other gig!
So, we got to see Tortoise doing their soundcheck which included two NEW Tortoise songs! One of them sounded very Stereolab-ish with the organ sound it had.
The Tortoise was a welcome surprise, considering the circumstances and the fact that they did two new songs was great. Since Tortoise was first and unannounced, there wasn't very many people there although people were drifting in while the set was commencing. McEntire played drums with his usual abandon– his sticks were disintegrating while he was playing. Wood splinters flying off of the drum heads. Really, Tortoise has two of the best drummers around between McEntire and Herndon. Seeing Tortoise live drives home the fact that first and foremost they are a percussion band. Everyone in the band at one time or another during a show is on sticks or mallets.
After Tortoise was done and Jeff made his hasty exit into the snowy night there was a short break while Tortoise tore down and the next band set up.
I was looking forward to hearing Eleventh Dream Day. They are an institution in some respects– ten albums release in their 20 years of existence. Theirs is the story of hopes dashed as Atlantic dropped them and rebirth on Thrill Jockey. I really liked their last album Zeros and Ones as well as Stalled Parade. Frankly, I was blown away by the energy this band has on stage. Rick Rizzo's Les Paul and the rhythm of Janet and Doug evokes the stampede of Neil Young and Crazy Horse. I hope they continue to produce records and tour.
It was during Eleventh Dream Day's set that we got another surprise guest– Sue Garner joined the band for a couple of songs including her song "I Like The Name Alice" which Eleventh Dream Day covered for the Plum box set.
The next band up was Frequency who was performing as a trio– apparently missing bassist Harrison Bankhead. Frequency put on a fairly high-energy set with its fair share of improvisation. Nichole Mitchell has an impressive ability to hum in harmony with her flute giving a kind of Eastern feel to her playing.

Admittedly, I'm not a fan of ADULT. It isn't that I don't appreciate what they do– they have a fairly substantial back catalog and are considered pretty big artists in the electronic field. In fact, before the show started Erik and I were talking to a guy from Colorado who was in town for the Blackhawks game (at least that's what I thought he said– the Hawks were out of town for Friday and Saturday night matches, so either he was mistaken or very disappointed) who apparently goes to a bunch of the big festivals in the EU and ADULT. is considered a HUGE act there. He was really bummed that a) they weren't headlining, and b) they were only playing for 45 minutes. Most of the set was in the dark with a smoke machines and a single light– with Nicola Kuperus screaming into a microphone and assisting her hubby Adam Lee Miller twiddling the knobs on the analog synths and other gadgetry. That said, I think I got some good shots of them which showed what the stage looked like. Most of the other shots I've seen of their set had flashes which over-exposed the stage setting.
Another surprise act for me was The Zincs. I liked the Smiths-evoking guitars and the lyrics on their new album Black Pompadour, but hadn't really played it much. Their live set was fantastic, and makes me wish I'd caught their shows with The Sea and Cake. They played mostly songs from their new album along with a couple from their previous releases. Dualling Telecasters– James Elkington and Nathaniel Braddock were both playing them. James' looked to be an older American Tele, and Nathaniel's was a Mexican Tele with aftermarket Lindy Fralin's in it. Erik and I talked to Nathaniel after the set to get the lowdown on his guitar after we noticed his neck pickup didn't have a chrome cover.
After The Zincs was Califone! Erik and I have been talking about going to see Califone play for a long time. We had loose plans to see them in Madison, WI the last time out, and didn't get it together. I wish we had, because they are amazing live. They played a lot of the songs that we loved like "The Fisherman's Wife," so we were really happy about that. When the band started their first song, their horn section was up in the band balcony behind us, so it had a startling surround effect. After the song was done there was a pretty humorous exchange between Tim Rutili and the horn section where they responded Peanuts-adult-style to his questions. I don't know if this was planned or not, but it was pretty funny! They soon joined the band on stage. There is something about this band that really draws me in– it is at once atmospheric and folky and melancholy. They are quickly becoming one of my favorite acts and I've been snagging as much live concerts off the 'Net as I can.


Tim mentioned towards the end of the set that the band would be looking for some place to stay that night because of the copious amount of snow that had fallen since the beginning of the show. This broke the thrall of the show and made us realize that the weather was going to be something we were going to have to deal with.
Pit Er Pat was up next and put on a pretty decent show. The first time I saw them was opening for Tortoise at the beginning of the It's All Around You tour in Minneapolis in 2003 at the Fine Line. That show seemed a big more rough to me. It was clear that four years of playing together have made them tighter.

The final act of the night was a highly-anticipated Trans Am. In some respects one of the elder groups on Thrill Jockey along with Tortoise and The Sea and Cake. In all their years of touring, I'd never gotten a chance to see them. I really liked their new release Sex Change– probably more than the last couple of releases. I haven't really decided what to think about their adoption of vocoder vocals over disco beats. For their first albums they were an instrumental guitar trio and over the years they have made their sound much more elaborate with synthesizers, drum machines and vocals. At times they are like an 80's synth band, and other times they are more progressive/industrial. Their live set was a really raw, high energy set. We weren't able to stay through the whole set as one of the security guys we were talking to before the show came over to tell Erik that the roads had gotten really bad with all of the snow that fell. I got some more shots in and made my way over to the merch table to pick up Roots and Crowns from Califone on vinyl as well as one of the 15th Anniversary record bags.

Erik and I dug his car out and made the treacherous commute back to the hotel. We saw a lot of cars in the ditches on the way back. I hope everyone who went to the show made it safely back.
This was a fantastic tribute to and showcase of Thrill Jockey. I hope that this was a profitable enough event that maybe they'd consider doing another one at maybe their 20th Anniversary?
See you in 2012!
See all the pictures I took on Day 2 of the Thrill Jockey 15th Anniversary Show