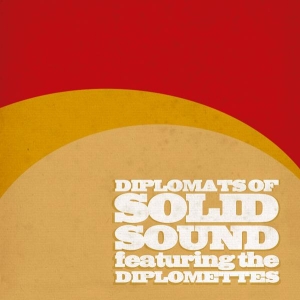 Well, it looks like 2008 is off to a running start for our favorite funk and soul group The Diplomats of Solid Sound.
First, from their MySpace page, we have the announcement of an upcoming single on Italian boutique funk/jazz/soul label Record Kicks. The A side of the single is the funky "Plenty Nasty" and the flipside is a big beat remix of the live favorite "Hurt Me So" done by Adam Gibbons aka Lack of Afro. Due out on February 25th (or February 11th?) on 7″ and Digital download the single is the precursor to the much anticipated full album release of The Diplomats of Solid Sound Featuring The Diplomettes.
Record Kicks is a label like Daptone in that they press limited runs of vinyl and this new album will be no different. At this time the release of the album is looking like some time in March. I'll update this article when I get confirmation. I'm sure that the Diplomats will have copies of the single and the album with them at live shows, but you will be able to order the album from their online shop (if you like to pay in Euros) or from Dusty Groove and iTunes will have digital downloads. I'm sure that the Record Collector in Iowa City will probably have copies, too.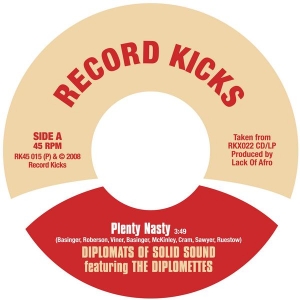 Record Kicks have posted RealAudio samples of the single: "Plenty Nasty" "Hurt Me So (Lack of Afro Remix)"
The Diplomats have put a slippery new song on their MySpace page called "Budget Fro" which looks to be from the upcoming album. For a limited time you can also download a live version of "Intercontinental Git" from 2004's Destination… Get Down! which was recorded at the Englert Theatre featuring Eddie McKinley and David Basinger. Get it while you can!
Also, the Diplomats have a number of upcoming shows in the area including two this coming weekend– one at the Mill in Iowa City on Friday 1/25 and on 1/26 at 3rd Street Live in Cedar Rapids.