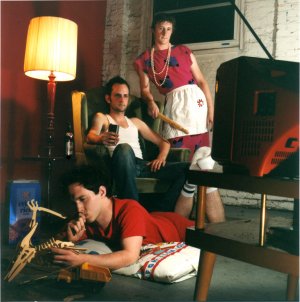 Upcoming on the area concert calendar is noise-rockers Pterodactyl who are touring in support of their first full-length release on Brah Records which is either self-titled or Blue Jay. Pterodactyl will be playing the 19-and-over show at the Picador in Iowa City on July 25th with openers The Tanks, Banana Hands, and The Slats. Doors are at 9PM.
Brah Records is the vanity label spinoff of Jagjaguar co-managed by members of Oneida and is also home to Oakley Hall who opened for Calexico when they played the Englert last September.
Pterodactyl's new record is a buzzy, banging frenetic record with bouts of melody. Should make for an interesting evening.
Here are the other dates on their Summer Tour:
Thu. July 12
Brooklyn, NY @ Don Pedro's
Tue. July 17
Pittsburgh, PA @ Garfield Artworks
w/ the Death Set & Ponytail
Wed. July 18
Cleveland, OH @ Beachland Ballroom
w/ Team Robespierre, Jerk
Thu. July 19
Lexington, KY @ TBA
Fri. July 20
Bloomington, IN @ John Waldron Arts Center
Sat. July 21
Detroit, MI @ Scrummage University
Sun. July 22
Chicago, IL @ Ronny's (Mauled by Tigers Fest)
w/ Underground Railroad to Candyland, The Bananas and Shellshag
2103 N. California Ave.
Mon. July 23
Minneapolis, MN @ Triple Rock
Wed. July 25
Iowa City, IA @ The Picador
Thu. July 26
Fargo, ND @ Aquarium
Mon. July 30
Seattle, WA @ Sunset Tavern
Tue. July 31
Portland, OR Holocene
Thu. August 2
Oakland, CA @ 21 Grand
Fri. August 3
San Francisco, CA @ Hemlock Tavern
w/ A-Frames, Pyramids
Sat. August 4
Glendale, CA @ Scene Bar
w/ Indian Jewelry, Nymph
Sun. August 5
Phoenix, AZ @ Trunk Space
Tue. August 7
Austin, TX @ Emo's
Wed. August 8
Houston, TX @ The Proletariat
Thu. August 9
Shreveport, LA @ Jack Rabbit Lounge
Fri. August 10
Birmingham, AL @ Bottle Tree
Sat. August 11
Atlanta, GA @ Drunken Unicorn
Sun. August 12
Mount Pleasant, SC @ Village Tavern
Tue. August 14
Chapel Hill, NC @ Night Light
Thu. August 16
Philadelphia, PA @ Johnny Brenda's
Here is the band's website
Here is the band's MySpace Page
Click Here to Download "Polio" from their newest album.
Click Here to Download "Esses" from their newest album.