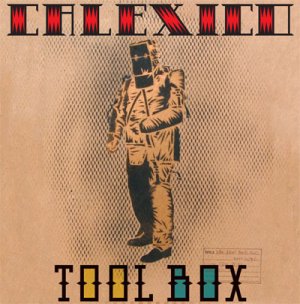 One of the things that I love about Calexico is the fact that they produce these limited-run tour-only (*well, you can get them from their website, too) releases. It's not enough that they release great studio releases– they cater to the fans with compilations of studio experiments, live songs and outtakes.
Tool Box is the sixth of these releases since 1999 and the second of instrumental songs. I haven't ordered my copy, yet, but I'm looking forward to hearing it.
According to this article in Chartattack, the album was recorded during some downtime recently during a break from the lengthy tour for Garden Ruin. The 14-track album is comprised of songs written and performed by only Convertino and Burns rather than the extended band used for the recent formal releases.
Visit this page to listen to a sample from Tool Box.