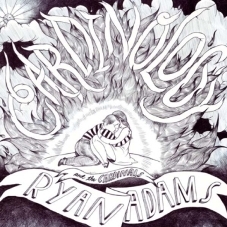 On the 17th it was announced by Lost Highway that Ryan Adams and the Cardinals will be releasing a new album on October 28th titled Cardinology. As expected, Ryan and Co. are already pulling the songs out on their Fall tour. Yours truly will be seeing Ryan again this year and shooting pix for a review at the Ames show on October 7th. The songs I've heard so far are pretty good and certainly on par with Easy Tiger. Since Archive.org has a pretty good collection of Ryan shows, I thought I'd provide links to individual mp3's so you can listen to a live version of the album before its release. All of the tracks from the album aren't represented by shows on archive.org, yet, but as shows are recorded and shared there, I'll update the links here until the release of the album.
BTW: We are going to be able to download "Fix It" on Tuesday. I'm not sure which sites, yet, but I'll update this when I find out. According to some folks on the ryanadamsarchive.com forum, "Fix It" was released to radio today. The single will be available for download on October 7th.
Update: Ryan is providing a streamed sample of "Fix It" from his blog site:
Check out the beautiful cover art for the vinyl version of Cardinology by Adam's chum Leah Hayes— author of the graphic novel Funeral of the Heart
. According to a poster-in-the-know on the ryanadamsarchive forum this limited vinyl release will have colored vinyl, artwork by Leah Hayes including illustrated lyric book and the exclusive 7″ of "Orange" b/w "Asteroid" and will also include an mp3 download! I'll have to try to score some record flats of this!!
Click here to read the post and to play the sample (requires Flash)
Here is the track list for Cardinology:
"Born Into a Light" (10-16-2008)
"Go Easy" (9-26-2008)
"Fix It" (9-4-2008)(9-7-2008)(9-25-2008)(9-26-2008)
"Magick" (9-4-2008)(9-7-2008)(9-25-2008)(9-26-2008)
"Cobwebs" (9-7-2008)(9-25-2008)
"Let Us Down Easy"
"Crossed Out Name" (9-4-2008)(9-25-2008)(9-26-2008)
"Natural Ghost" (9-25-2008)
"Sink Ships" (9-7-2008)(9-25-2008)
"Evergreen" (9-30-2008)
"Like Yesterday" (9-25-2008)
"Stop" (10-16-2008)