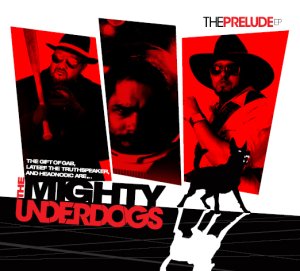 The new collaboration from Quannum artists The Gift of Gab and Lateef the Truth Speaker with Crown City Rocker Headnotic The Mighty Underdogs are releasing The Prelude EP. This 6-track EP is a calling card for the eventual full album to be titled Dropping Science Fiction which will be released some time in 2008. Making cameos on the EP and LP are Quannum alums DJ Shadow and Lyrics Born as well as Chali 2na from J5, as well as Damian and Julian Marley, and MF Doom!
The EP will be released on October 29th, but if you pre-order from The Gift of Gab's online shopping cart you will be able to download the mp3's of the EP immediately (well, as soon as your credit card clears) and you will receive an autographed copy of the CD when it ships! It's only 8 bones, so get yourself one.
I've had a chance to hear the EP and I really like it– of course I'm a big fan of the Gift of Gab and Lateef. The whole album is a rocker, funker and slinky R&B deliverer and certainly should start the buzz for the full album. I'm a bit surprised at the slightly gangsta bent to the track "Gunfight"– I like the track but it seems a bit out-of-place with the other peace and love tracks like "Love Life." Of course the album cover has one of them dressed like a gangster brandishing a bat.
Other Gab-related news includes the fact that his new solo album Escape 2 Mars is on the horizon. Also, Blackalicious is kicking off small Fall tour which will have as openers the Crown City Rockers and the Mighty Underdogs!
Visit The Gift of Gab's MySpace Page to hear "Gunfight" featuring MF Doom!