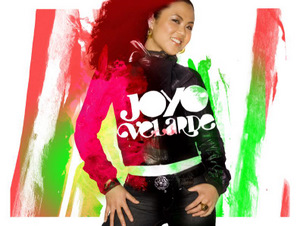 If you've been following Lyrics Born's over 16-year career, you are familiar with the heavenly vocal counterpoint of Joyo Velarde. Joyo's recorded career with Lyrics Born started with her "Moo baby" vocal hook on his 1997 landmark release of "Balcony Beach" which would eventually be released on the Latyrx album.
It's been my opinion that the increasing popularity of Lyrics Born is his unwillingness to be pigeonholed into any particular music style and his tendency for very musical releases. I can appreciate straight beats-and-rhymes hip-hop, but I like my hip-hop tempered with some melody, and certainly Joyo's presence on his recordings are part of that.
The promise of Joyo's first solo record has existed since she released her "Sweet Angels" single in 2002 on the then-newly-formed Quannum Records. Which isn't to say that she hasn't been busy– since that time she has provided her voice to many recordings– mostly related to the Quannum collective like the last couple Blackalicious records, Lyrics Born, Latyrx, The Mighty Underdogs, as well as the impressively extensive touring that Lyrics Born has been maintaining since his first album Later That Day. Joyo's album Love and Understanding was originally supposed to be released last fall and had the very cool Hey Love! mix as its calling card, which included tracks from the upcoming release.
Now the release date is slated for this November, and on May 26th, a self-titled 5-song EP will be released digitally (no physical media, presumably). The EP includes three tracks that were included in the Hey Love! mix: "Build This World," "Take You Home," and the Bobby Digital-produced bonus track "I Need You Boy."
The songs on the EP are a great slice of R&B and Soul. If you are looking for the down-home funk that Lyrics Born brings, you'll need to look elsewhere. But, the EP isn't without its funky moments, the track shared all over is "Take You Home" which is pretty much my favorite track on the EP is a summery dance-funk track that should help build the interest in the album.
Tracklisting:
1. Build This World
2. The Way We Are
3. Feels Right
4. Take You Home
5. I Need You Boy (bonus)
Click Here to download "Take You Home" from Joyo Velarde EP.
Click Here to visit Joyo's MySpace Page
Here is the video for "Take You Home":