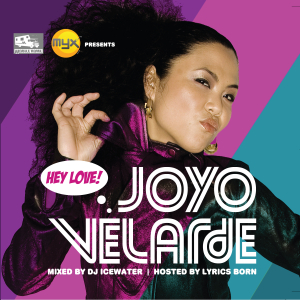 The much-anticipated solo release from Lyrics Born-sidekick and frequent collaborator Joyo Velarde has been in the works for literally years and this week we get a teaser in the form of a mixtape. It includes tracks from her upcoming Quannum Projects release Love & Understanding as well as tracks where she lent her amazing pipes for other acts including Lyrics Born as well as some tracks exclusive to this mix.
This mix is pretty similar to the recurring Lyrics Born Show mixes that LB puts out, and this is also credited to his label Mobile Home Recordings.
The mix is available now through Lyrics Born's download store for $5.99. If you are a fan, like I am, go download this!
Tracklisting:
1. Hey Love Intro
2. Build This World
3. Time To Wake Up – DJ Zeph & Azeem ft. Joyo Velarde
4. I Need You Boy
5. Oh Joy* – Lyrics Born & Proof Positive
6. Rise and Shine – Lyrics Born ft. Joyo Velarde
7. Bay Luv* – Lyrics Born and Joyo Velarde
8. I Can't Wait For Your Love – Lyrics Born ft. Joyo Velarde
9. Beautiful You – Maroons ft. Joyo Velarde
10. People Like Me
11. Jenny and Georgie*
12. Certain Special Way – Joyo Velarde ft. Trackademicks
13. Those Days*
14. Doobie-Doo*
15. The World Is Calling – Lyrics Born ft. Joyo Velarde
16. Take You Home
17. Spirit of Love*
18. Love Me So Bad – Lyrics Born ft. Joyo Velarde
19. King's Daughter*
20. We Made It* – produced by Proof Positive
*mixtape exclusives/previously unreleased