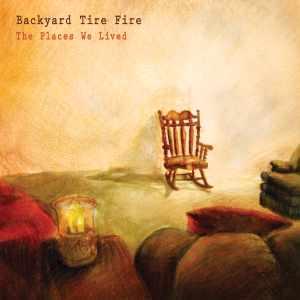 My discovery of Backyard Tire Fire is thanks to MySpace. I'd heard of the band– references have shown up in a few of the RSS feeds I follow– but I hadn't heard their music. Apparently, their enterprising "web guy" saw that I was a fan of Cracker and Johnny Hickman and reached out. Hickman is quoted as saying that Backyard Tire Fire is his favorite band right now. After listening to the streaming tracks from their MySpace page and samples on their website as well as a full album stream of their previous album Vagabonds and Hooligans on Indie911 I, too have become a fast fan of their Midwestern brand of country-tinged rock. Hickman compares them to early Wilco, Son Volt and Flaming Lips.
However, I don't think that the shades of early Wilco and Son Volt stick around for long on Backyard Tire Fire's new album The Places We Lived. There is something more at work here. From the treated pianos, chimes, bells, and strings throughout, the plucky bass and the double tracked harmonies– specifically on "Shoulda Shut It." It at times seems like a darker version of Brian Wilson's vision and the band toys with some Smile-ish changes in mood and the layering of instruments and sound effects. Is this our Surfer Girl with Seasonal Affective Disorder?
I'm not sure that Backyard Tire Fire would ever claim the Beach Boys as a relative, however. Maybe through a second cousin of Tom Petty or Cheap Trick. Ed Anderson has one of the better voices I've heard out of the indie scene with the ability to get very soulful and funky on the stomping "One Wrong Turn," he evokes his inner Zander with the anti-tribute to the workweek "Welcome To The Factory." "Bright lights and blank stares through the night," indeed complete with ratchet and clank over big rock drums delivered by official timekeeper Tim Kramp. This is clearly the sound of a band having fun in the studio playing with all the toys. The album sounds great. I read that Tire Fire likes to work in analog, and this album has a vinyl release to compliment that effort, BTW.
This record seems to owe a bit to Tom Waits as well. Certainly Ed's voice is easier to listen to, but you can hear it in the slightly boozy songs anchored with treated piano in "Rainy Day (Don't Go Away)," "One Wrong Turn" and the album closer "Home Today."
"It's funny how we forget sometimes," Ed sings in the album opener and title track, "the places we once lived." Tire Fire's new album is as much about the Middle-Class Midwestern perspective of the places they lived that colors the landscape of the songs as it is about the influences of the music that provided the soundtrack to the journey to get to those places. The Places We Lived wears its influences proudly. Each of the songs on the album's economical 35 minutes stands on its own effectively, but also provides guides to those places they lived from funk and blues to country and classic rock. Mixed together with some impressive studio production we have what I think it one of the standout albums from this Summer! In an interview with JamBase, Ed says that with each album he thinks, "this is the recording that everyone is gonna latch on to" which drives them to "get the job done." In my opinion, The Places We Lived certainly has the hooks and chops to get them there.
Backyard Tire Fire are currently touring in support of The Places We Lived. Click Here for the updated dates. They are going to be at the Picador in Iowa City tonight (9/10) for an early show and I'll be there.
Click Here for Backyard Tire Fire's Website
Click Here for Backyard Tire Fire's MySpace Page
Click Here for the interview in JamBase with Backyard Tire Fire