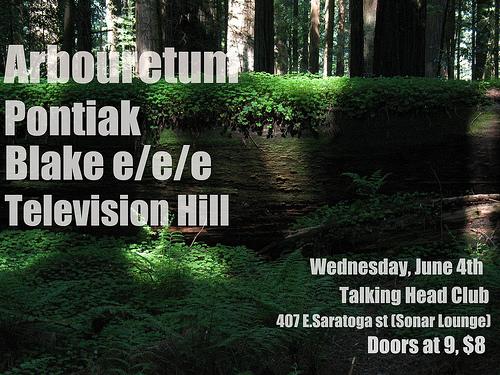 As I mentioned earlier, Baltimore's Arbouretum is releasing a split album with new Thrill Jockey signees Pontiak called Kale. The two bands played one show together in Baltimore on June 4th at The Talking Head. I knew about the show, but I didn't know that the show was taped and available for download via Aural States which is a blog/site dedicated to happenings in the music scene of Baltimore.
Arbouretum headlined and played a set of mostly tracks from Rites, but also included one of the covers from Kale "Buffalo Ballet." A great set, in my opinion." Pontiak's set was also very good and included "Dome Under Sky" from Kale.
The opening act was another side project of Dave Heumann from Arbouretum called Television Hill. Television Hill is more of a throwback folk/blues outfit, but still very good. This set is available from Beatbots which also covers the Baltimore scene.
Big thanks to Jeff the Taper who made these recordings available.
Click Here to stream or download Arbouretum's set.
Click Here to stream or download Pontiak's set.
Click Here to stream or download Television Hill's set.
Aural States is also hosting a live set from Wye Oak from March along with an interview. I'm hoping that I'll be able to catch the show next weekend with Pontiak and Wye Oak in Iowa City!