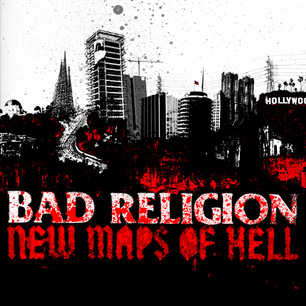 Bad Religion was one of those bands that I had heard of but never had the opportunity to hear prior to this release. New Maps of Hell marks the fourteenth release by Bad Religion in their 27-year history. Those 27 years have seen the band with a number of member changes– this version of Bad Religion is a superset of the vocalists, guitarists and bass player the band has had over the years. The core of the band is the three original members Greg Graffin (vocals), Brett "Mr. Brett" Gurewitz (guitars), and Jay Bentley (bass). Added to them is Greg Hetson (guitars) from the legendary Circle Jerks and Brian Baker (guitars) from Minor Threat. On drums for the last three albums is session player Brooks Wackerman who does a capable job catapulting the avalanche of guitars on this album. With a pedigree like this you would expect a textbook execution of punk and hardcore.
Except it really isn't.
New Maps of Hell seems to me to be the refinement of– and possibly the development of– the punk and hardcore sound that the members of this band helped define in the '80s and '90's. With a lot of help from Grammy-nominated producer Joe Barresi who worked on albums from Queens of the Stone Age, Tool and Weezer we have a very polished and consistent record– almost RADIO FRIENDLY. The album's first single "Honest Goodbye" is being pushed to alternative markets already. That is a good midtempo rocker to bring the appeal to the masses with its anthemic lead vocals from Graffin and sunny almost Queen-like harmonies.
I've had the opportunity to listen to this album during my morning commute for a couple of weeks. Initially I was a bit put off by the fact that all of the songs have exactly the same production, but it is a grower and I found myself singing along with the choruses on most of the songs. Some standout tracks are "Honest Goodbye," "Heroes & Martyrs," "Dearly Beloved," the rallying cry of "New Dark Ages," "Lost Pilgrim." "Before You Die" sounds like a song Green Day wishes they recorded.
The album's lyrics, while not specifically political in nature, deliver a message of disappointment and disillusionment with the current state of Western society. It is this frustration that propels the tempo and mood of the album. A consistent snapshot of the Summer of 2007. Forty years after the Summer of Love we are living the same hangover that followed it.
In a recent interview with Mr. Brett by Billboard about New Maps he states that the original plan for the album was for it to be a two record affair with more variety of style and technique– a sort of White Album that would allow them to revisit their older sound. I think that would be a good next move the band. The album wraps up with "Fields of Mars"– a song with pianos in the opening and bridge that seem out-of-place on this album but that possibly hint where they might have gone.
Be sure to catch Bad Religion this summer as part of the Warped Tour which will be playing near you.
Click Here to listen to "Heroes and Martyrs" from New Maps of Hell.
Bad Religion's MySpace Page with a number of tracks from New Maps
Bad Religion's Official Web Page
Get New Maps of Hell
from Amazon.com