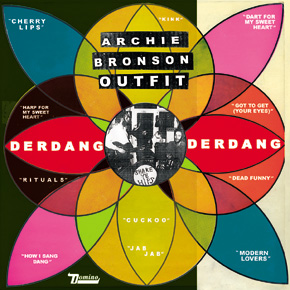 Although the onomatopoeiacally named album Derdang Derdang from The Archie Bronson Outfit is their second album, I hadn't heard of them before listening to this album. According to the Domino website they were discovered by Domino label head Lawrence Bell in a pub he frequents. Domino's website describes Archie Bronson Oufit as being one of the most unique and brilliantly out-of-step British bands in years.
I guess that pretty much sums it up for me, too. I'm tempted to draw comparisons, but really come up empty handed. The album is consistent in its sparse feverish gallop. As many reviewers point out, it has a Nuggets feel– the Sixties garage psychedelic sound. I read that the band locked themselves in a flat in south London for weeks straight and wrote this album and flew to Nashville to record it with Jacquire King who evidently produced Tom Waits and The Kings of Leon and I think you can hear that in this record. A clostrophobic sense of urgency colors the canvas of this album. This makes the album both entertaining in an edgy way and sometimes a bit cloying. In some ways this album reminds me of Talking Heads '77 and "Psycho Killer." The stripped down and angular approach feels similar to me. This album has as much in common with the post-Punk/pre New Wave artists like Jonathan Richman, Talking Heads, and Television as it does with 60's psych bands like The Monks.
I agree with the sentiment that The Archie Bronson Outfit are in a way have their own sound and are out-of-step with many of the acts that are popular today. Really, though, how many more Sufjan, Will Oldham, and Animal Collective sound-alikes do we need? I think this band is one to watch.