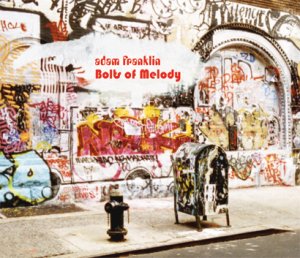 Adam Franklin is the former frontman for shoegazer/psychedelic group Swervedriver that existed from 1991-1999. Swervedriver recorded five albums before breaking up. Their first album Raise was on Creation Records in the UK which was also the home of My Bloody Valentine. Their first single "Son of Mustang Ford" which was a tribute of sorts to T-Rex gained them enough recognition that they were signed to A&M in the US. I saw the video for "Son" on MTV's 120 Minutes and was moved to buy that album and the companion EP Reel to Real.
The story goes that Creation Records nearly went broke due to the obsessively-recorded Loveless by My Bloody Valentine so the record label was not able to spend any money promoting Swervedriver or their following albums Mezcal Head and Ejector Seat Reservation. Swervedriver was subsequently dropped from A&M after Raise and fell off the U.S. radar until they were picked up by Zero Hour in 1998 and they released their last album 99th Dream.
Since Swervedriver's breakup in 1999, frontman Adam Franklin has been busying himself recording six releases under the name Toshack Highway.
Adam's seventh release– and first under his name– is Bolts of Melody and will come out on June 26th on Hi-Speed Soul.
I feel the album picks up nicely where Swervedriver left off. It incorporates the many-layered chorus of guitars swirling around the melodies sustained by Adam's distinct laid-back vocal styles. There is a more 60's guitar pop feel with Adam wearing influences from garage bands and psychedelia groups. I've been listening to this regularly since I received the promo and it has been a good soundtrack for the Spring that I'm sure will continue through the Summer weeks.
Bolts includes some previously-released tracks from Toshack Highway including the two versions of "Birdsong" and "Theme from LSD" from the Birdsong EP and "Syd's Eyes" from the single of the same name. I think that the Birdsong tracks fit on the album pretty well, but "Syd's Eyes" seems to stick out a bit more than I like from a production and song style.
Adam will be touring in support of Bolts of Melody with a barrage of West Coast dates through the middle of July. I hope he'll extend this run though the Midwest! I think a stop at the Picador may be in order. He is also working on a collaboration with Sam Fogarino from Interpol they are calling The Setting Suns. The Setting Suns album is planned for release this Fall.
Be sure to visit Swervedriver.com as they have a bunch of rare mp3's from Swervedriver and Toshack Highway worth downloading.
Listen to "Sieze the Day" from Bolts of Melody.
Purchase Bolts of Melody
from Amazon.
Adam Franklin Live Dates
07/02 New York, NY Mercury Lounge (Album release show)
07/13 Seattle, WA KEXP (In-studio)
07/14 Seattle, WA The Crocodile Cafe
07/14 Seattle, WA Sonic Boom Records (In-store)
07/15 Portland, OR The Doug Fir
07/15 Portland, OR Jackpot Records (In-store)
07/16 San Francisco, CA Cafe du Nord
07/17 Los Angeles, CA The Echo
07/18 San Diego, CA The Casbah
07/18 M-Theory Music (In-store)