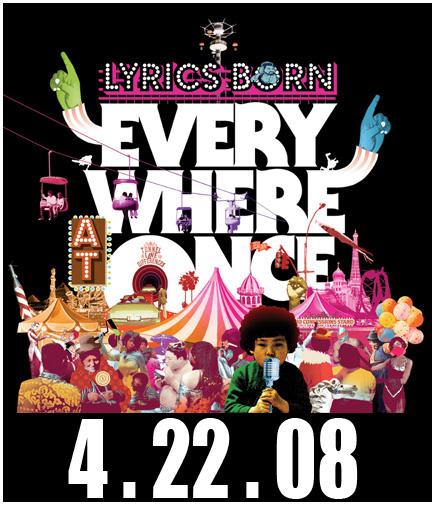 Can you feel it? Even through the massively cold weather the prospect of a new Lyrics Born album turns my mind to Spring and Summer. Monday night Lyrics Born's first single from his new album Everywhere At Once out April 22nd on his new home Anti- was debuted on Bay radio station Live105.
The song "I Like It, I Love It" is an instant trunk-thumping classic. 80's style analog synths, and 808 claps and popping distorted bass guitars drive a great dance groove and a chorus that sticks in your head. "Every time that I get up on the microphone I've gotta dedicate a rhyme to you, girl…" The girl, of course is his wife Joyo and he certainly does! Her new album Love and Understanding is in the can at long last and ready for its release due on Quannum this summer. That should guarantee an amazing tour headlining together!
The digital single will be released on iTunes and Amazon on February 19th. For now, you can listen to the song on Lyrics Born's MySpace page player and on his website at lyricsborn.com.
I'm pretty excited about this song and album– I feel like it is going to blow up!
Go listen to it here:
Lyrics Born's website (it's the nifty cassette in the middle of the page. Requires Flash)
Lyrics Born's MySpace page while you're there you can see I'm credited with a picture from the last tour!