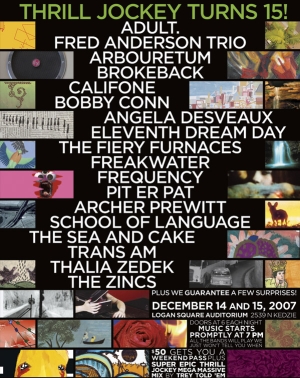 Per the fine folks at Pitchfork, Thrill Jockey, The Empty Bottle, and Time Out Chicago have announced the details of the US version of the Thrill Jockey Birthday Bash in the UK on November 11th and 12th.
$50 will get partygoers two nights of Thrill Jockey Post-Fun at the Logan Square Auditorium on Friday, December 14th and Saturday, December 15th. The shows will include long-time label acts including Eleventh Dream Day, Brokeback, The Sea and Cake, Califone, Trans Am, Freakwater as well as newer acts School of Language, Thalia Zedek, Frequency, Archer Prewitt, Pit Er Pat and others.
Suspiciously missing from the roster is Tortoise, but maybe the promise of "guaranteed surprises" will get us some kind of appearance.
The sequence of the acts is unknown– so we don't know which night a particular band might play, and as such the $50 gets you both nights. A deal anyway you look at it, really. Especially when you consider that you will be getting the very cool and very rare Super Epic Thrill Jockey Mega Massive Mix done by Girl Talk side project Trey Told 'Em. 70-minutes of mashed Thrill Jockey.
According to the PF article, the mix will be available in very limited quantities through Thrill Jockey or Trey Told 'Em's online orders.
The PF article also gave us the official name for Thrill 200— Plum. Available 12/4 in the US and 12/3 in the UK.
Click Here to download the Trans Am excerpt from the Super Epic, etc. (hosted by Timeout Chicago).
Visit the Trey Told 'Em MySpace Page to hear the very cool over-seven-minute Tortoise Mix!