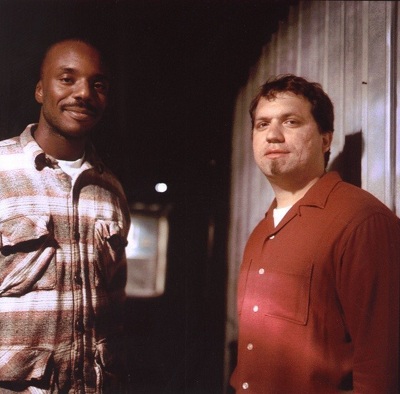 In what seems to be shaping up to be a Thrill Jockey invasion of Iowa, it has been announced today that coronetist Rob Mazurek's avant garde jazz vehicle Chicago Underground will be performing at The Mill Restaurant in Iowa City on Thursday, February 18th! This will be the Chicago Underground Duo configuration featuring Mazurek and drummer Chad Taylor, who are the two constant members of the group which has recorded and performed as a trio (with bassist Noel Kupersmith) and quartet (with guitarist Jeff Parker of Tortoise) and sometimes as The Chicago Underground Orchestra (with Parker, Bitney and Herndon from Tortoise as well as Sara Smith, Chad Lopes, and Tony Pinciotti). The group started in Chicago borne of a standing improvisation workshop at the notorious jazz venue Green Mill. Since 1998, the collective has recorded 11 albums between the Thrill Jockey and Delmark labels, and their newest album titled Boca Negra will be their fifth as the Duo.
I think that The Chicago Underground Duo is a pretty interesting band configuration as it is just a percussionist and Mazurek on coronet, although they sometimes bring other instruments along for their live show. I've never seen this band live before, so I'm hoping to make it to this show. I've seen Mazurek's other project Isotope 217 before (on the 1998 tour with Tortoise). Isotope 217 is less improvisational maybe more like Tortoise in some respects.
The Chicago Underground Duo will be bringing their flavor of avante garde improvisational jazz to The Mill Restaurant in Iowa City on, Thursday, February 18th. Admission will be $8 and the show will start at 9PM. An opening act has yet to be announced.
Click Here to visit Thrill Jockey's Chicago Underground page where you can stream whole albums from their catalog.
Click Here to visit The Mill Restaurant's calendar page to get more details on the show.
Click Here to listen to "Spy on the Floor" from Boca Negra.
Chicago Underground Tour Dates (from thrilljockey.com)
Fri    Jan 15    New York, NY     – FONT Festival
Sun    Jan 17    Philadelphia, PA    – International House
Wed    Feb 3    Chicago, IL    – Chicago Cultural Center
Fri    Feb 5    Ann Arbor, MI    – Yellow Barn
Tue    Feb 9    Marfa, TX    – TBA
Wed    Feb 10    Tucson, AZ    – Solar Culture Gallery
Thu    Feb 11    Phoenix, AZ    – Modified Arts
Fri    Feb 12    Los Angeles, CA    – Bootleg Theatre    w/ Pit Er Pat
Sat    Feb 13    Visalia, CA    – Cellar Door
Sun    Feb 14    San Francisco, CA    – Cafe Du Nord    w/ Pit Er Pat
Wed    Feb 17    Omaha, NE    – Bemis Center for the Contemporary Arts
Thu    Feb 18    Iowa City, IA    – The Mill Restaurant
Fri    Feb 19    Northfield, MN    – The Cave @ Carleton College
Sat    Feb 20    Chicago, IL    – The Hideout
Sun    Feb 21    Milwaukee, WI    – Woodland Pattern Book Center