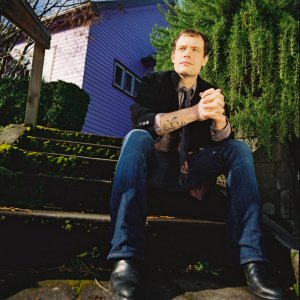 A tip of the hat to John Fisher at the CD Warehouse in Cedar Rapids for the heads up on this one– Barsuk artist Rocky Votolato will be playing the early show at the Picador in Iowa City on Tuesday, 9/18. Doors at 6PM, this is an all-ages show and tickets are $7 in advance.
John turned me on to Votolato and his new release The Brag and Cuss, which came out in June. He said that he sells out of this album every time he plays it in the store. I gave the album a listen from the Barsuk site which is streaming the whole album. Give it a listen. I recommend picking this one up.
Since this is a mid-week early show I will plan to hit it with a camera. The opening acts are Portugal the Man and The Great Depression.
Other tour dates coming up for Rocky Votolato
Rocky Votolato Official Website