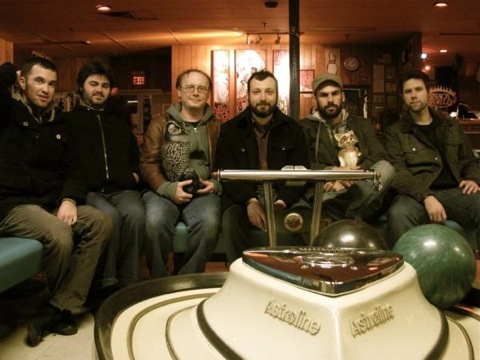 In what would seem to be an intersection of coincidences, a band out of New Jersey gaining a lot of indie-lovin' blog praise will be playing a barn ballroom outside of my childhood home of Bellevue, IA.
Roadside Graves is a seven-piece band serving up a hearty stew of folk and rock with a heapin' helpin' of rootsy country with a pinch of Celtic reel to taste. Listening to their new album My Son's Home on Autumn Tone, I'm impressed how this band packs all of these flavors in. But, as with any good stew, the longer it sits, the flavors mingle for every spoonful (hmm… it must be time to eat). Music blogs reach to define this band and include references like Bob Dylan's Rolling Thunder Revue, Springsteen, John Prine, Son Volt– and certainly all of those influences are heard.
Mooney Hollow Barn is a music institution in Jackson County, IA. Built in the 1930's, it was a farm until 1977 when it was converted into a place to have monthly barn dances. In the 1980's Mooney Hollow Barn played host to many Nashville legends including Roy Acuff, Ernest Tubb, Faron Young, Porter Wagoner, Kitty Wells, and Bill Anderson. Bill Anderson will be back to the Mooney Hollow stage 27 years after his first appearance on 9/19.  In 2006 Kevin Petesch bought the barn reopened it after being closed for five years.
Last week the inaugural Daytrotter.com Barnstormer tour stopped in Mooney Hollow bringing with it a line up of some of Daytrotter's favorite acts. It was this appearance that brought Mooney Hollow to the attention of Roadside Graves who were looking for an overnight stop on their tour between their Milwaukee and Chicago appearances (and I bet a Daytrotter session in Rock Island just south!).
Somehow the idea of this newer band standing on the Mooney Hollow stage playing their unique blend of country, rock and folk in the same place the old guard of Nashville greats is comforting. "Will the circle be unbroken," indeed!
It would be worth the trip to see this amazing barn, and possibly check out the sights in this great little Mississippi River town.
Click Here to listen to "Far and Wide" by Roadside Graves from My Son's Home
Click Here to listen to "Ruby" by Roadside Graves from My Son's Home
Click Here to visit Roadside Graves' website
Click Here to visit Roadside Graves' MySpace page
Click Here to visit Roadside Graves on Facebook
Click Here to read a review at one of my favorite blogs Aquarium Drunkard
Click Here for the Mooney Hollow Barn website
Upcoming Shows for Roadside Graves (lifted from their MySpace page)
| | | |
| --- | --- | --- |
| | Martin's | Jackson, Mississippi |
| | Thirsty Hippo | Hattiesburg, Mississippi |
| | Chelsea's | Baton Rouge, Louisiana |
| | Blue Nile w/ The Revivalists and The Blue Party | New Orleans, Louisiana |
| | Rikki Bailey's Tattoo Shop | Longview, Texas |
| | Lambert's | Austin, Texas |
| | Hotel Monte Vista | Flagstaff, Arizona |
| | Soda Bar | San Diego, California |
| | Knitting Factory w/ Parson Red Heads | Los Angeles, California |
| | The Prospector w/ Parson Red Heads, Rademacher, and Francisco the Man | Long Beach, California |
| | Echoplex- acoustic set @ RocknRoll Summer Circus w/ Henry Clay People, Fol Chen and many more | Los Angeles, California |
| | Spaceland w/ Le Switch and World Record | Los Angeles, California |
| | Hotel Utah | San Francisco, California |
| | Backyard House show! | Reno, Nevada |
| | Bourbon Theater | Lincoln, Nebraska |
| | Mike's Tavern w/ The Blue Party | Kansas City, Missouri |
| | Memorial Union Terrace with Rural Alberta Advantage | Madison, Wisconsin |
| | LEMP | St Louis, Missouri |
| | Club Garibaldi's w/ Chris DeMay | Milwaukee, Wisconsin |
| | Mooney Hollow Barn | Green Island, Iowa |
| | The Bottom Lounge | Chicago, Illinois |
| | Vollrath Tavern w/ Gringo Star and The Broderick | Indianapolis, Indiana |
| | The Vernors Room at Crofoot | Pontiac, Michigan |
| | The Court Tavern | New Brunswick, New Jersey |
| | Monolith Festival @ Red Rocks w/ Yeah Yeah Yeahs, M Ward, and many many more! | Morrison, Colorado |
| | Let it Roll Music Festival | Ghent, New York |
| | Court Tavern w/ Parson Red Heads | New Brunswick, New Jersey |
| | Lit Lounge, with Parson Red Heads | New York City, New York |
| | The Raconteur, with Parson Red Heads | Metuchen, New Jersey |
| | M Room w/ Cotton Jones, Parson Red Heads, & Blood Feathers | Philadelphia, Pennsylvania |