Back in June, Wisconsin six-piece band PHOX opened up for six-piece Seattle band Hey Marseilles at CSPS. Hey Marseilles was gaining some critical attention at the time and were on a run of dates in support of their new album Lines We Trace which included the great single "Heart Beats." The band asked PHOX to open for this run of shows and the show I saw at CSPS had me enthralled– lead singer Monica Martin has a beautiful voice and the whole band has an astonishing amount of talent and skill. Monica is just getting her bearings as a frontwoman, but her stage banter with the audience the band was funny and heartfelt. It's great to see this band getting more attention and it is clear it hasn't gone to their heads.
Since PHOX played in Cedar Rapids, they have had some high-visibility gigs including a wonderful Daytrotter session (a vinyl LP of which has Hey Marseilles on the flip) and playing the iTunes Festival in London opening for The Lumineers.
You should watch this really great session PHOX did at Audiotree.tv, too!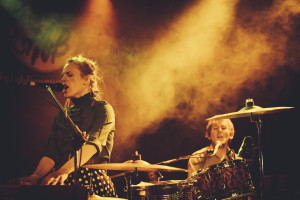 We are really lucky to get PHOX back at CSPS– this time as the headliner with former Cedar Falls, IA-now-Twin Cities husband and wife duo Har-di-Har— another favorite band of 2013 for me.  Julie and Andrew Thoreen have put together what amounts to a full band by sharing the percussion duties with a split trap kit while they take on guitar, keyboards and bass duties as well as vocals. And, what vocals they are! Very tight harmonies sounding a lot like British Folk from the 60's and 70's.  I reviewed their three EP's over the last year for Little Village including their latest Hard Parent/Thick Child:
Album Review : Har-di-Har – Words of Whim/Feudal Kind EP's
Album Review : Har-di-Har – Hard Parent/Thick Child EP
Har-di-Har also did a wonderful Daytrotter Session, too!
This not-to-miss show will be on Sunday, November 24th at 7PM. Tickets are a VERY REASONABLE $9 in advance and $13 at the door. Get the details at the Legion Arts Website.