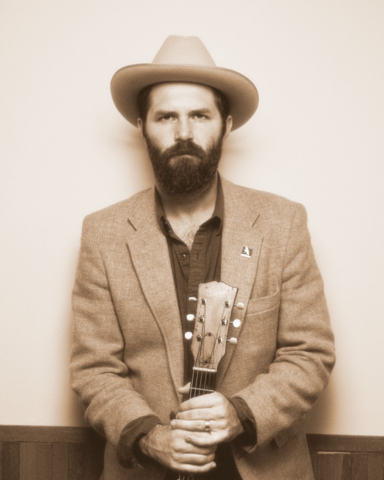 Somewhere between Milwaukee, Rockford, IL and Chicago sits Whitewater, WI. Whitewater is home of the University of Wisconsin, Whitewater (alma mater of John Belushi if you believe Wikipedia) as well as folk/country/Americana singer-songwriter Jeffrey Foucault.
Foucault has been spinning his particular yarns into song for going on ten years and has performed in support of complimentary artists like Greg Brown, Todd Snider and Chris Smither. His 2006 album Ghost Repeater was produced by Bo Ramsey and included a few of his regular sidemen– Rick Cicalo on bass, Steve Hayes on drums, as well as Nate Basinger from the Diplomats of Solid Sound, and Dave Moore guesting. Eric Heywood from Son Volt provided pedal steel guitar.
Foucault's latest album Horse Latitudes came out in May to critical acclaim, also has some notable sidemen– Heywood returns on pedal steel and Van Dyke Parks provides keys! Horse Latitudes is the first album I've heard from Foucault, but his vibe recalls some of the great songwriters of our time– here and there I hear drops of Neil Young's early work around Harvest, Springsteen and Gordon Lightfoot. An impressive work from beginning to end.
Foucault will be performing at Legion Arts/CSPS in Cedar Rapids, IA on Friday night at 8PM. Tickets are $14 in advance and $18 at the door.
More information at the Legion Arts Website.
Watch Jeffrey Foucault on Sound Pass

Click Here to listen to "Horse Latitudes" from Horse Latitudes.
Click Here to listen to "Pretty Girl In A Small Town" from Horse Latitudes.
Click Here to listen to "Goners Most" from Horse Latitudes.
Catch Jeffrey Foucault on Tour (from his website):
| | | | |
| --- | --- | --- | --- |
| 12.09.11 | Cedar Rapids, IA | CSPS | |
| 12.13.11 | Marshfield, WI | Vox Concert Series | Hayward Williams opens |
| 12.14.11 | Fort Atkinson, WI | Cafe Carpe | Redbird |
| 12.15.11 | Fort Atkinson, WI | Cafe Carpe | Redbird |
| 12.16.11 | Fort Atkinson, WI | Cafe Carpe | Redbird |
| 01.01.12 | Shelburne Falls, MA | Memorial Hall | Redbird |
| 01.06.12 | Baltimore, MD | Cellar Stage | With Mark Erelli |
| 01.07.12 | Newtown Square, PA | Burlap and Bean | With Mark Erelli |
| 01.08.12 | Stony Brook, NY | University Cafe | At Stony Brook University with Mark Erelli |
| 01.13.12 | Pittsburgh, PA | Club Cafe | |
| 01.14.12 | State College, PA | Acoustic Brew Concert Series | |
| 01.20.12 | Marblehead, MA | Me & Thee | With John Fullbright |
| 02.17.12 | Minneapolis, MN | Cedar Cultural Center | Support to The Pines |
| 02.18.12 | LaCrosse, WI | The Root Note | |
| 02.25.12 | Stoughton, WI | Stoughton Opera House | |
| 03.2-4.12 | Ashfield, MA | The Mighty Albert | A Guitar/Songwriting Workshop Weekend |
| 03.03.12 | Ashfield, MA | Elmer's Store | Concert |
| 03.16.12 | Syracuse, NY | Folkus Project | |
| 03.31.12 | Cambridge, MA | Club Passim | |
| 04.27.12 | Fairmount, IL | Sleepy Creek Vineyards | |
| 04.28.12 | Springfield, IL | Hoogland Center for the Arts | |
| 05.12.12 | Pomfret, CT | The Vanilla Bean | |