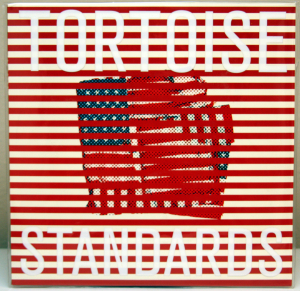 If you've been following my blog, you know that I recently completed my search for Tortoise vinyl over the last couple of years. One of the first LP's I got was Standards, Tortoise's 2001 release.
Yesterday, Thrill Jockey announced that due to popular demand they have run a second pressing of Standards in RED vinyl! The first pressing is in black. Like the first pressing the LP and cover art will be encased in a silk-screened clear vinyl sleeve. In the picture of my copy to the left the words "Tortoise" and "Standards" are the silk-screened part.
This will be– of course– in a very limited pressing of 1000 and available through the website at $13.99 plus shipping. This will include for the first time a coupon for free downloads of the mp3's too. Typically these mp3's are a lush 320Kbps.
I think that next to TNT, Standards is probably Tortoise's most popular release with the two live performance staples of "Seneca" with it's epic guitar distortion intro and recent development of audience clapping the beat at the end, and the vocoder-and-synth electro love of "Monica." Standards is a must-have and, of course the audible meal of Tortoise is best served on vinyl.
Does this mean we will see other reissues of the Tortoise catalog? With the promise of a new Tortoise album– they're already playing some great new songs live– there will likely be a renewed interest in the back catalog.