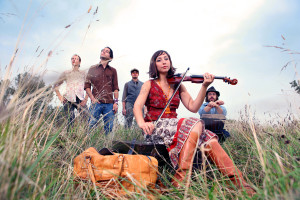 Ypsilanti, Michigan folk rock band The Ragbirds are a family-affair. Fronted by Erin Zindle on vocals, violin, mandolin, accordion, banjo and percussion (whew!) she is joined by her husband, percussionist Randall Moore and her brother T.J. Zindle on guitar. The current lineup is rounded out by Loren Krantz on drums and Brennan Andes on bass guitar and percussion.
With this many members of the band playing percussion you might imagine that The Ragbirds are a polyrhythmic sort– and you'd be right. The band calls their sound an "infectious global groove"– a mix of Eastern folk, afro-cuban, Celtic and African all poured into the funky stew. It sounds like a cross between Rusted Root, Camper Van Beethoven and Edie Brickell and New Bohemians to me.
The Ragbirds will be taking over the stage at CSPS in Cedar Rapids on Sunday night at 7PM. Shaking it to the grooves of The Ragbirds would be a great way to shake off the winter cold– so you should make a point of heading down to NewBo, and while you're down there you should check out the restaurants, book store and the Farmer's Market before the show!
In addition to their musical endeavors, the band also conducts workshops on "Eco-Touring." The band has a diesel Ford F-350 van converted to use waste vegetable oil– using cooking grease from local restaurants and preparing it for use in their van. They won't be conducting a workshop in Cedar Rapids, but I'm sure they'd be happy to talk about it after the show.
More details and ticket information HERE:
Sun Feb 9 2014 – 7:00 pm • CSPS Hall
$15 advance | $18 door