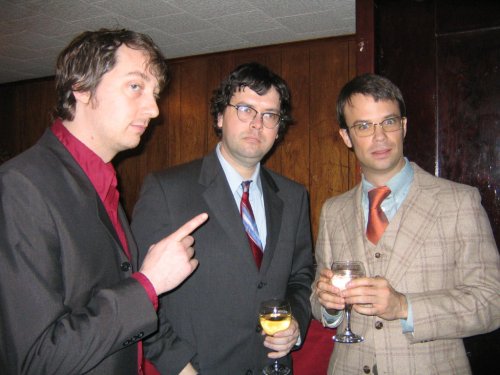 I will admit that before Fables of the Reconstruction converted me I was into Heavy Metal. During the Early 80's with a Sony boombox bungee-cord strapped to my Honda moped I was listening to bands like Rush, Blue Oyster Cult, AC/DC, Iron Maiden, Judas Priest, Motley Crue and Def Leppard. I still hold a place in my heart for those bands. Admittedly, most of these groups have aged better than others.
The Fucking Champs are an instrumental trio currently made up of long-standing Tim Green and Tim Soete and joining them is Phil Manley from Thrill Jockey staple Trans Am. I had heard of The Fucking Champs in relation to the collaborative projects with Trans Am as The Fucking Am and The Trans Champs, but I hadn't gotten around to checking them out.
When I first heard The Fucking Champs' new album VI, I was impressed in this band's ability to play what seems like a complete lexography of heavy metal riffage. From song to song on this album I can pick out guitar tones and riffs that remind me of particular parts of my favorite metal bands. This album reminds me of what I really loved about Trans Am on their early albums like Surrender to the Night
before they added vocoder-vocals and synths and became a dance band of sorts. I also hear influences from King Crimson– particularly my personal favorite album Red
, which was also recorded as a trio of Fripp, Wetton and Bruford. At times I hear the chorus of Queen guitars, too.
The Fucking Champs are kicking off a Spring Tour on Thursday in Atlanda and continues through June 9th in Raleigh, NC. They are stopping in Iowa City at the Picador on Memorial Day so I'm going to try to get out to see that. Tickets are $8.00! You can't beat that price. I'm sure it will work out to be thousands of riffs per dollar! Opening for them are Birds of Avalon and Red Fang.
Here are the tour dates:
Thursday, May 24
Atlanta, GA
The Earl
Friday, May 25
Birmingham, AL
The Bottletree
Saturday, May 26
Memphis, TN
The Hi Tone
Sunday, May 27
St. Louis, MO
The Duck Room
Monday, May 28
Iowa City, IA
The Picador
Tuesday, May 29
Chicago, IL
The Empty Bottle
Wednesday, May 30
Detroit, MI
Magic Stick
Thursday, May 31
Toronto, ON
Sneaky Dee's
Friday, June 1
Montreal, Que
La Sala Rossa
Saturday June 2
Wallingford, CT
The American Legion Hall
Sunday, June 3
Allston, MA
Great Scotts
Monday June 4
New York, NY
The Mercury Lounge
Tuesday, June 5
Brooklyn, NY
Studio B
Wednesday, June 6
Baltimore, MD
Ottobar
Thursday, June 7
Philadelphia, PA
Johnny Brenda's
Friday, June 8
Charlottesville, VA
The Satellite Ballroom
Saturday, June 9
Raleigh, NC
King's Baracade
Listen to Spring Break from VI
Purchase VI from iTunes