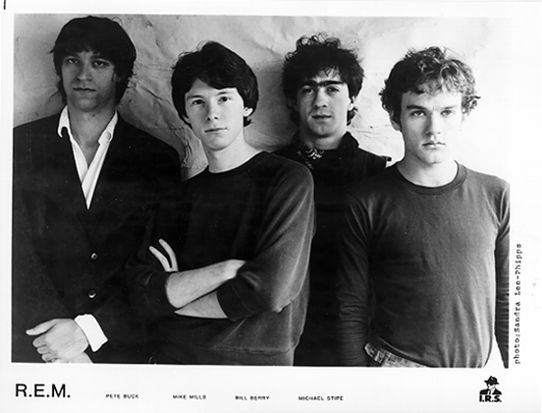 R.E.M. is inducted into the Rock and Roll Hall of Fame this week. In some respects this is the band that was once my favorite band sealing their fate as a classic rock band. Yesterday on the Onion A/V site Steve Hyden wrote an article about the "Incredible Shrinking Legacy" of R.E.M.— how over time R.E.M. became less of a band able to make music anyone cares about. If you have a couple of minutes you should read the article and the following comments from folks arguing like theologians over the Apocrypha.
As I look up at my framed handbill of the October 31, 1987 show from Palmer Auditorium in Davenport, I realize that Steve is saying something that I've slowly come to terms with over the years– that R.E.M. isn't making music that interests me any longer, and apparently a lot of people feel the same way. Unlike Steve, I haven't gone to the extreme of selling off my R.E.M. collection, nor have I completely dismissed their importance as a band that nearly single-handedly brought college rock to the colleges (debt to U2 here, too)– making the campuses safe for every band from Soul Asylum to Camper Van Beethoven and– (gads!) Hootie and the Blowfish and Counting Crows.
So, I think their induction marks a significant passing of the torch. As I listen to the music from bands that are the age that R.E.M. was at their peak (the peak defined by college rock historians as 1981-1995) the "alternative" landscape is much different and the influences that feed today's music is different that it was then. R.E.M. came from Velvet Underground, Talking Heads, Television, Byrds, and Big Star. Today's bands are influenced by R.E.M., U2, as well as other contemporaries. It's the passing of the torch and, while it makes me sad that the music that defined my teens and early twenties is history at best– it is what needs to happen for music to move on. Should R.E.M. have quit after Bill Berry quit the band? I agree that the band hasn't made records that so define an age as Reckoning and Fables have, they are still cranking out albums and seem to really be trying and following their particular creative paths. In the meantime, I'll keep watching and listening to see if they do something groundbreaking again.