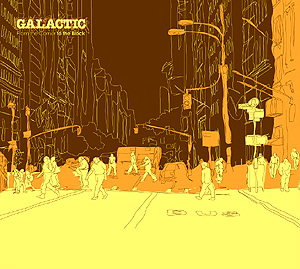 Galactic is an instrumental jazz and funk band in the vein of another New Orleans-resident band The Meters. The band started in 1994 and until 2004 had a vocalist named Theryl DeClouet. Although they also pulled in other notable vocalists and musicians especially in their live sets.
From the Corner to the Block is the first record without DeClouet and the first on the increasingly-interesting Epitaph subsidiary label Anti-. Anti- is also the home of Americana artists like Joe Henry, Bettye LaVette, Neko Case, old-school country acts like Porter Waggoner and Merle Haggard, uncharacterizable guys like Nick Cave and his projects and Tom Waits, alt-whatever acts like Spoon (in the UK anyway, its on Merge in the US). It's the increasing stable of HipHop atists that is really surprising, however– Anti- has had Blackalicious since their last album, as well as the controversial Coup, and now Lyrics Born will be releasing his anticipated follow-up to the groundbreaking Later That Day titled Everywhere at Once on Anti- in February 2008.
So, it might not be very surprising that the collection of MC's Galactic is backing on their new release draws heavily on 'Yay Area artists and friends of the former Quannum acts Blackalicious and Lyrics Born. The Gift of Gab who provides the growling "The Corner" is the MC from Blackalicious is also one of the MC's of The Mighty Underdogs. The upcoming release Dropping Science Fiction by the Mighty Underdogs will include Quannum labelmate Lateef the Truth Speaker, who contributes a thumping "No Way" to the Galactic album. Vursatyl from Quannum act the Lifesavas is on here, too, with a track with harmonies that remind me of classic War. Chali 2na who is the former MC from Jurassic 5 lays his signature baritone on "Think Back" a song of "Mental Landmarks." LB provides a characteristically anthemic shouter in the same vein as his contribution "Let Me In, Let Me Out" on Tommy Guerro's 2006 release From the Soil to the Soul.
There has always been this flirtation of hiphop and rock/funk. We've seen lots of examples of this over the years– notably Philly band The Roots and I suppose the late-90's Beastie Boys albums Ill Communication and Check Your Head where they dabbled in live instruments and B3. According to Ben Ellman who provides sax and harmonica to the Galactic mix the band hadn't set out to make a strictly hiphop album. They consider the album to be a funk album that happens to feature hip-hop vocals. I guess it is all symantics in the end, as this album does a fantastic job of melding the two genres. Some of the credit is due to engineer Count who worked on DJ Shadow's last album The Outsider which also included some live instruments.
I've been listening to this album for a couple of weeks and have noticed how well it stands up for repeated listenings. My observation is that the vocalists on this album work well as their style works well with live instrumentation. These are MC's with real musical aptitude. Lyrics Born has been touring with a live band for over two years and he signed German Uber-funkers The Poets of Rhythm to Quannum and used them on "I Changed My Mind" which has been a live staple. Chali 2na used to be part of Ozomatli and worked with Dave Matthews Band on Jurassic 5's last album. Boots Riley from the Coup whose "Hustle Up" track is either a call to party or a call to fight worked with members of P-funk, Tom Morello from Rage Against the Machine, and Jesse Johnson on their Anti- release Pick A Bigger Weapon.
In between this very impressive stable of MC's we get a couple of way-too-abbreviated Galactic instrumental interludes, but we also get the very funky collaboration with turntable genius Z-Trip. Z takes a lot of flack for including rawk in his sets, but clearly demonstrates he knows his way around the "one."
As I was watching the MTV 2007 VMA's last night it's clear to me that most of the hiphop that is on popular radio has lost its soul. This soul which comes from understanding the legacy of funk and R&B of Motown, Stax, and the funk of the JB's. From the Corner to the Block was intended to modernize the New Orleans sound. Welcome to the new Mardi Gras sound.
Listen to "Think Back" with Chali 2na
Listen to "What You Need" with Lyrics Born
Purchase From the Corner to the Block
from Amazon.com
Purchase From the Corner to the Block from iTunes
Galactic's MySpace Page with a couple of tracks and tour dates