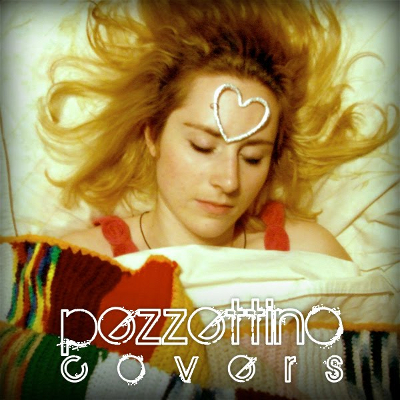 I've mentioned Pezzettino here before and I have some more to write about her coming up. To sum up,  Margaret Stutt who performs as Pezzettino is from Milwaukee, Wisconsin and crafts her unique almost outsider-art singer-songwriter tunes centered around her life and experiences propelled by her trusty accordion.
With two albums under her belt and an infectious new single and a new album waiting to be loosed in the studio, Margaret is currently on a tour of the Midwest and East coast hitting mostly homes and art-spaces. She's doing this solo– just her and her accordion!
To fund the trip she took donations to make requests for songs to be covered with videos posted to YouTube. The range of covers was all over the map ranging from rap to indie to classic rock. All of them were deconstructed and re-assembled and given a distinctly ethereal electronic spin. When she was in Cedar Rapids in October I suggested that they had a Tricky or Massive Attack feel to which she gave an unfamiliar shrug. The electro-clubby breakdown in her cover of Skynyrd's "Freebird" prompted me to ask if she'd consider remixing her own material. She said that this style was fun to use for these covers– and easy to do with GarageBand, but she didn't feel she'd extend to her releases. This is an important point, these songs are fun, but really more of a distraction for her and not really representative of her two albums.
At one point she was going to sell pillowcases that she custom embroidered which would have a download of these songs. Releasing this collection as a free download like this works really well, and is a good introductory collaboration with the artists' collective Sixty Years War.
It's cool to get these songs, but to really appreciate these you have to watch the videos. Margaret usually recorded the song and edited the video in a matter of a day which is reflected in the immediacy and detail committed to both aspects of the projects.
Click Here to listen to the tracks and download a .zip file of Covers.
Click Here to visit the Pezzettino Channel on YouTube which includes the Covers project as well as her video blog and live performances.
Click Here to visit Pezzettino's Blog covering her travels.