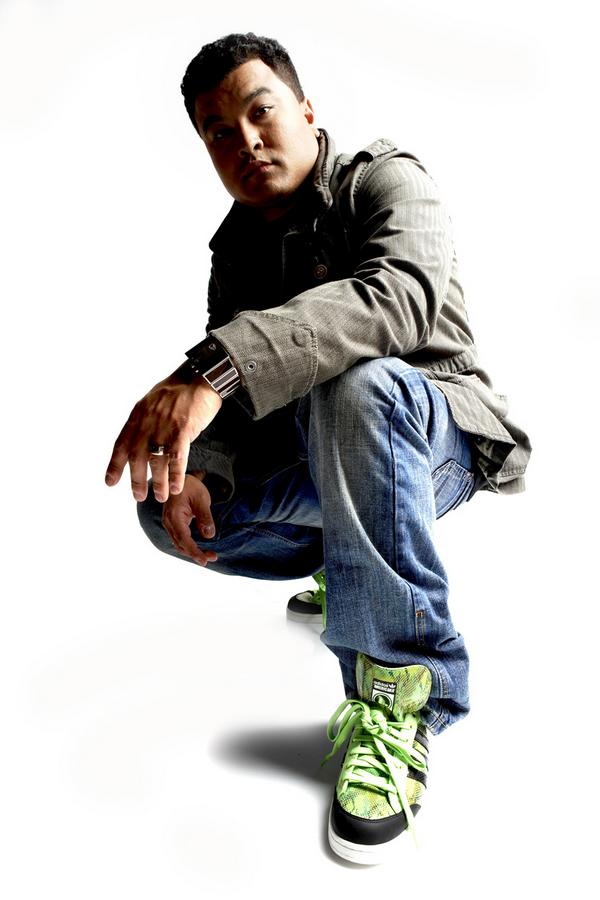 Our favorite 'Yay Area MC has partnered with LG to help promote their new Chocolate 3 phone by recording a "three" themed tune to be used in commercials and available for free from LG's Chocolate 3 Site.
The site is heavy-Flash content, but once the page loads click to play Lyrics Born, wait for some more bloaty Flash content to load (srsly– sitting using the free wireless at the airport, this is taking minutes to load!), change the category to "Music", and then you can choose "Download the Tracks" where you can pick free downloads from LB, Goapele, and Bitter:Sweet.
LB mentioned the track in a recent edition of LBTV and he said that he was very happy with it. It is trademark LB, but it does sound a bit like the topic came before the inspiration a bit as he exclaims "Three is my favorite number!" He saves it a bit by giving it a romantic spin– and frankly his enthusiasm is infectious and it's pretty catchy.
I love the irony of loading this song on my iPhone…
Click Here to get to the LG Chocolate 3 Site
In other LB news, he has been tapped to be the voiceover announcer of a new Cartoon Network franchise on Friday nights called You Are Here. Pretty much a cartoon character himself, I hope that they take advantage of his sense of humor. The first airing is this Friday night, October 3rd.
Update: 10/12/08: Lyrics Born has canceled his Fall tour to help with the campaign for Barack Obama. Click Here to read my article on this.
As if that wasn't enough, Lyrics Born is kicking off a Fall tour of the U.S. If you've been following this blog that long you've read the 2006 and 2007 reviews of his stops in Minneapolis at the Foundation. I'm not sure what the deal is with the Foundation in oh-eight, but he is coming to the fantastic Fine Line on November 8th, which is a great venue although my wife isn't sure it is condusive to the obligatory ass-shaking that occurs with his show. I guess we'll find out, as we will be returning for a threepeat. With Joyo's album hitting in January I'm sure we can count on a couple of solo songs!
Elbee, if you're reading this– what's up with hitting the Snowy Apple in frigging November the last three years? I'm happy you stop, but it's pretty cold…
Fall Tour Dates (lifted from MySpace)
| | | |
| --- | --- | --- |
| | SF Weekly Show – Ruby Skye | San Francisco, California |
| | Middle East Downstairs | Cambridge, Massachusetts |
| | The Trocadero Theatre | Philadelphia, Pennsylvania |
| | Highline Ballroom | New York, New York |
| | Rex Theatre | Pittsburgh, Pennsylvania |
| | Sonar | Baltimore, Maryland |
| | Agora Theater | Cleveland, Ohio |
| | The Eagle Theater | Pontiac, Michigan |
| | Majestic Theater | Madison, Wisconsin |
| | Double Door | Chicago, Illinois |
| | Fine Line Music Cafe | Minneapolis, Minnesota |
Click Here for Lyrics Born's MySpace Page
Click Here for Lyrics Born's Official Page
Click Here for Lyrics Born's Blog