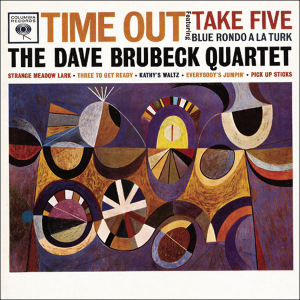 One of my all time favorite jazz records is the 1959 Columbia release Time Out by the Dave Brubeck Quartet. I have this release on compact disc (not the remaster) and a couple copies on vinyl. Frankly, it is a lot of people's favorite jazz release– it is one of the best selling jazz albums ever (next to Miles Davis's Kind of Blue also produced by Teo Macero). It has the distinction of having a single that reached the Top 5 on the Adult Contemporary chart– "Take Five" composed by band member Paul Desmond.
2009 is the 50th Anniversary of Time Out, and to celebrate the occasion Sony Legacy is re-releasing it's 1997 compact disc remaster of the album on May 26th. According to this posting on the Down Beat website, the second disc is made up of previously unreleased performances from The Newport Jazz festival from 1961-1964. So, sadly, no unreleased session outtakes for this release. The unreleased Newport recordings are a nice touch, I suppose but makes the release not worth much more than the 1997 remaster except for the third disc in the release which is a DVD with an interview with Dave Brubeck on Time Out as well as some photographs and an "interactive piano demonstration" (who knows what this is?).
I spent time today trying to find any information on this release other than the paltry little bit that the online retailers have and was not successful. No press release, no mention of the release at the Sony Legacy website (at least at the time of this writing)! So, while it might be nice that they are doing a new packaging of the release, they don't bother to promote it.
At first glance this really looks like a way for Sony to cash in on the 50th Anniversary of this release.  Unfortunately this is nothing like the Kind of Blue

50th anniversary box with the 180g blue vinyl, the CD, DVD and book that they did last year. I will pick this up because I'm interested to see the interview with Brubeck (who turned 88 last December) and I don't have the remastered version of Time Out.
Here is the track listing with some session information I found at the excelent jazzdisco.org I haven't found any place that indicates which Newport Jazz Festival shows the songs are from. I'll update if I get any details.:
Dave Brubeck Quartet Time Out 50th Anniversary Legacy Edition Track Listing
Disc 1:
1. Blue Rondo A La Turk (Album Version) (NYC, August 18, 1959)
2. Strange Meadow Lark (Album Version) (NYC, July 1, 1959)
3. Take Five (Album Version) (NYC, July 1, 1959)
4. Three To Get Ready (Album Version) (NYC, June 25, 1959)
5. Kathy's Waltz (Album Version) (NYC, June 25, 1959)
6. Everybody's Jumpin' (Album Version) (NYC, June 25, 1959)
7. Pick Up Sticks (Album Version) (NYC, August 18, 1959)
Disc 2 (Live at Newport Jazz Festival 1961-1964):
1. St. Louis Blues – (previously unreleased)
2. Waltz Limp – (previously unreleased)
3. Since Love Had Its Way – (previously unreleased)
4. Koto Song – (previously unreleased)
5. Pennies From Heaven – (previously unreleased)
6. You Go To My Head – (previously unreleased)
7. Blue Rondo a La Turk – (previously unreleased)
8. Take Five – (previously unreleased)
Disc 3 (DVD):
1. Dave Brubeck on Time Out
2. Photo Gallery
3. Interactive Piano Demonstration
Wikipedia article on Time Out